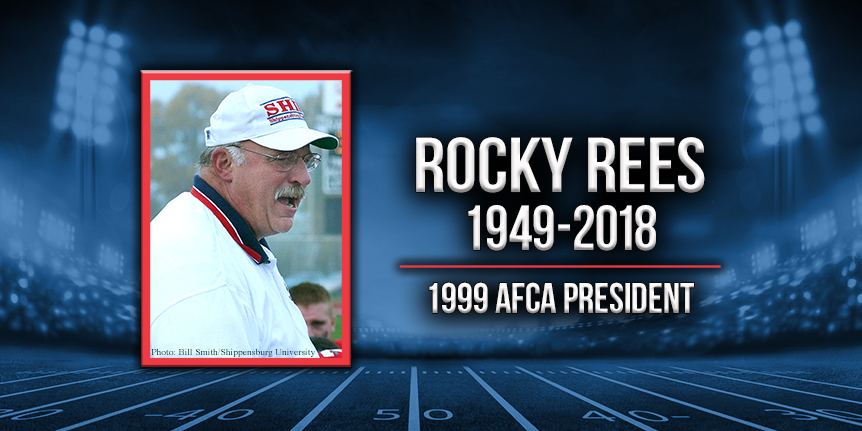 Former Shippensburg Head Coach And 1999 AFCA President Rocky Rees Passes Away
The American Football Coaches Association (AFCA) is saddened to hear about the passing of 1999 AFCA President and former Shippensburg University head coach Rocky Rees. He passed away Thursday night after a short battle with cancer.
Rees was a dedicated member of the AFCA and served on the Board of Trustees from 1992 to 1999, spending his final year as president. He was also very active on AFCA committees, chairing the Meeting Room Committee from 1986 to 2002 and the Public Relations Committee from 2000 to 2006. Rees also served on the AFCA Ethics Committee. He was a three-time AFCA Regional Coach of the Year winner, taking his first honor in 1986 while the head coach at Susquehanna University, then earning his final two honors while at Shippensburg in 2004 and 2009.
Rees coached at Shippensburg from 1990 to 2010, earning a record of 123-110-1, which makes him the all-time coaching wins leader in program history. He guided the Red Raiders to three NCAA Division II playoff appearances and was named Pennsylvania State Athletic Conference Coach of the Year four times.
Rees' overall collegiate record stands at 159-125-2 when you include his five years as head coach at Susquehanna from 1985-89. He earned two Middle Atlantic Conference Coach of the Year honors with the Crusaders and is a member of the Susquehanna Athletic Hall of Fame and South Central PA Hall of Fame.
A 1971 graduate of West Chester University, Rees still holds the Golden Rams' single-game record for rushing touchdowns with five. He is a member of the West Chester Killinger Foundation Football Hall of Fame and was inducted into the Shippensburg University Athletic Hall of Fame in 2014.
He began his coaching career at Newark (N.J.) High School, posting a 28-5-1 record and guiding the school to one state championship and two Blue Hen A Championships.
For more information about the AFCA, visit www.AFCA.com. For more interesting articles, check out AFCAInsider.com and subscribe to our weekly email.
If you are interested in more in-depth articles and videos, please become an AFCA member. You can find out more information about membership and specific member benefits on the AFCA Membership Overview page. If you are ready to join, please fill out the AFCA Membership Request Form.
« «
Previous Post
|
Next Post
» »