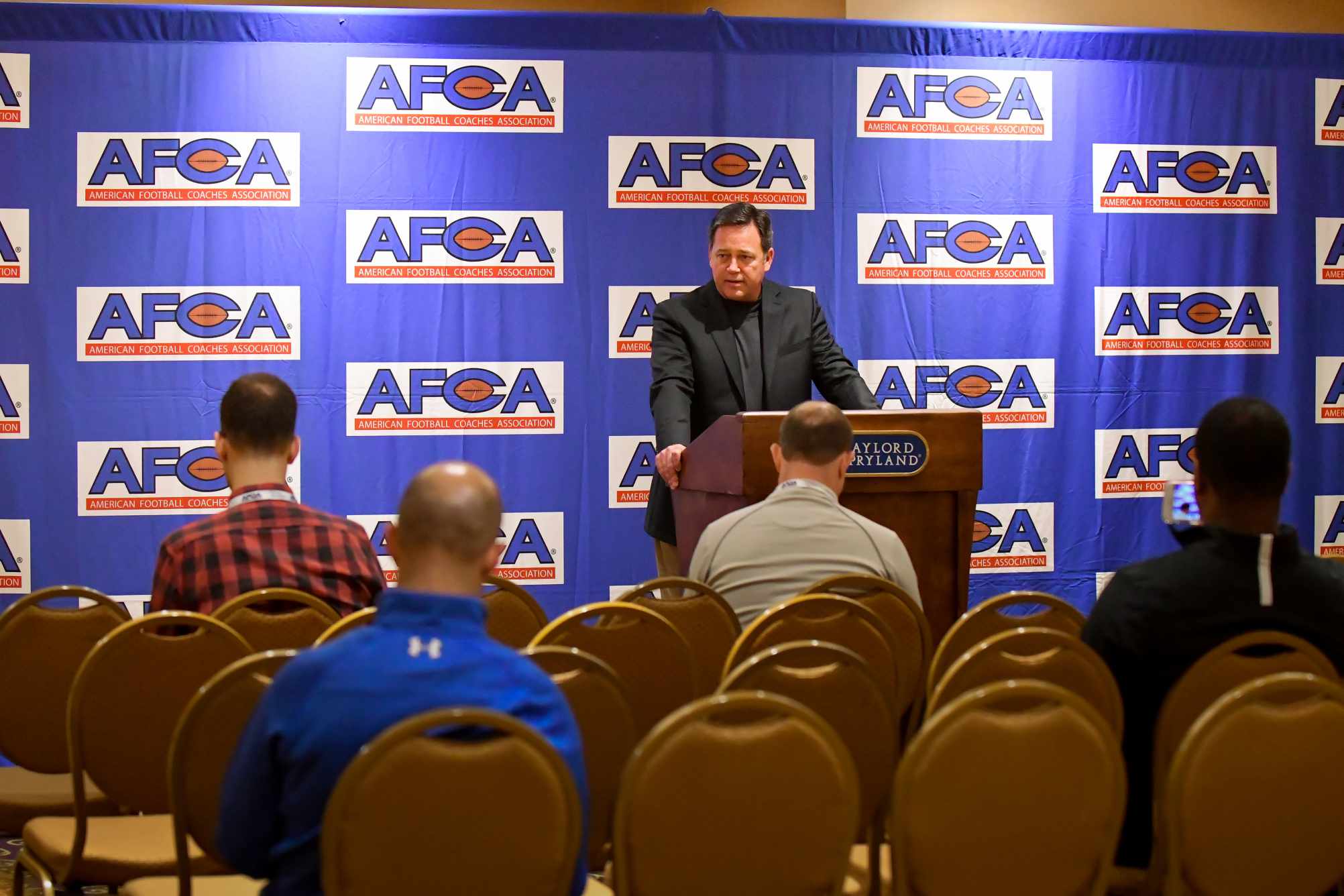 Statements From AFCA Following 2019 AFCA Coaches Convention
At the conclusion of the 2019 American Football Coaches Association (AFCA) Convention, and after having met with all the different levels of college football coaches, including the FBS head coaches, AFCA Executive Director Todd Berry released the following proposals that the AFCA supports.
The kickoff play was having a higher injury rate than other plays. We appreciate the NFL working with us on this play to try and make some corrections because we want to make leaps instead steps in the right direction. We believe that everything on this play should be based on real data instead of assumptions. The amount of kickoff returns were reduced by 25 percent by having the fair catch. Across all levels of football, our coaches are still in favor of this rule.
RELATED ARTICLE: Mike Leach Headlines AFCA 2018 National Coach Of The Year Award Winners
The double-team on the kickoff has become a much more impactful play in relation to the number of injuries that occur to the individual that is getting double-teamed, or the student-athletes who are double-teaming. Because of this, the AFCA Rules Committee is asking the NCAA Rules Committee to ban any double-teams on the kickoff play. Again, all of our coaches are in favor of this move.
All of our coaches are in favor of the targeting rule and they recognize the significance of it. We also recognize that there needs to be more clarification. There is going to be subjectivity in the enforcement of this rule, but this can be very costly to the student-athlete who has limited attempts to play this game. For a student-athlete to be ejected from a game for something that many would question to be the correct call can be severe.  So our coaches have approved the idea or concept of a Targeting 1 and Targeting 2. Targeting 1 would carry a 15-yard penalty, meaning there was no malicious intent on the hit. Targeting 2 would be for hits with malicious intent, and the play all coaches want to get rid of in our game. Our coaches have suggested that if a student-athlete has multiple Targeting 2 penalties within a season, then that individual be more severely punished than the one-game suspension.
The AFCA member coaches are fully in support of the early signing date. The intent of the early signing date was to create transparency and clarity in the recruiting process, both for the universities and the student-athletes, and we think it has done that. For student-athletes who did not sign in the first signing date, they still have an opportunity to take visits and sign during the second signing period.
The 5-for-4 rule, or red-shirt rule, was very popular with our coaches, and did what we thought it was going to do. It is a win-win for the student-athletes and the coaches in terms of health, safety and roster management.
The coaches discussed the transfer piece because it was contentious for the NCAA and for student-athletes. Our coaches recognize that the student-athletes have some rights and responsibilities in this, and at the same time our coaches have rights and responsibilities to their teams. The coaches do not support the under-graduate transfer where student-athletes are immediately eligible to play because the coaches feel it is not fair to anyone. Coaches are not against transfers as a whole because if we were, we would not be in support of the graduate transfer. The coaches whole-heartedly support the graduate transfer, which allows a student-athlete, regardless if they are a starter or not, to transfer wherever they want and continue on with their education in the master's program of their choosing.
The coaches talked extensively about the preseason model, and they want more data on that model which came out two years ago. The Sport Sciences Institute made guidelines, which basically became legislation at the FBS level, where programs had 29 days to get in 25 practices and requiring a day off. The coaches are anxious to see what the Sport Science Institute data points are in relation to this model. In the first year, when this model was supposed to help reduce injuries, football programs had more injuries. We will see if that was an anomaly.
In terms of support staff sizes, we have asked the NCAA to define what a coaching duty is. We have lots of rules in the NCAA rule book that suggest what coaching duties these individuals can perform, yet coaching duties is never defined. That's where the problem arises in what these support staff can and cannot do. Our coaches are not looking for equality, but they would like to see fairness on the field on game day, at practice and in recruiting across all divisions. Moving forward, the AFCA would like to be a participant in trying to define exactly what those coaching duties are.
We are always looking for opportunities to engage our high school coaches and get them more involved in the recruiting process. Football is the last scholastic recruiting model. College coaches are still dealing with high school coaches, guidance counselors and others associated with a high school program, and not dealing with club teams or other organizations that you see in other sports. We want to protect our scholastic model and we need to find ways to empower our high school coaches in the recruiting process. To go along with that, our college coaches would like to avoid playing college football games on Friday night. Friday nights should be a sanctuary for our high school football programs and they should be free of college distractions. While we recognize that there are opportunities presented where our coaches aren't in the decision making process, we continually ask others who are scheduling these college football games on Friday night to be concerned about it. It's not just high school football that is hurt, but it's the band, the concessions and everyone associated with that high school program who benefits from the finances of those high school games. It seems very strange to invade the territory of the hand that is feeding college football because that is where college programs get their student-athletes from. We appreciate the NFL for what they do for college football, in the sense that they stay off of our game days. Moving forward, we would like those in charge of these decisions to make the same kind of consideration to our high school coaches and programs.
FBS Head Coaches in attendance during their meeting on January 9, 2019 in San Antonio were:
Tom Allen, Indiana; Dino Babers, Syracuse; Mike Bloomgren, Rice; Craig Bohl, Wyoming; Troy Calhoun, Air Force; Bill Clark, UAB; Chris Creighton, Eastern Michigan; David Cutcliffe, Duke; Butch Davis, Florida International; Ryan Day, Ohio State; David Doeren, NC State; Pat Fitzgerald, Northwestern; James Franklin, Penn State; Willie Fritz, Tulane; Tom Herman, Texas; Skip Holtz, Louisiana Tech; Jay Hopson, Southern Miss; Mike Houston, East Carolina; Chris Klieman, Kansas State; Tim Lester, Western Michigan; Seth Littrell, North Texas; Matt Luke, Ole Miss; Chad Lunsford, Georgia Southern; Derek Mason, Vanderbilt; Bronco Mendenhall, Virginia; Les Miles, Kansas; Jeff Monken, Army; Philip Montgomery, Tulsa; Joe Moorhead, Mississippi State; Chad Morris, Arkansas; Dan Mullen, Florida; Pat Narduzzi, Pittsburgh; Mike Norvell, Memphis; Barry Odom, Missouri; Gary Patterson, TCU; Tony Sanchez, UNLV; David Shaw, Stanford; Kalani Sitake, BYU; Jake Spavital, Texas State; Rick Stockstill, Middle Tennessee State; Matt Viator, Louisiana-Monroe; Matt Wells, Texas Tech; Bobby Wilder, Old Dominion; Frank Wilson, UTSA.
For more information about the AFCA, visit www.AFCA.com. For more interesting articles, check out AFCAInsider.com and subscribe to our weekly email.
If you are interested in more in-depth articles and videos, please become an AFCA member. You can find out more information about membership and specific member benefits on the AFCA Membership Overview page. If you are ready to join, please fill out the AFCA Membership Request Form.
« «
Previous Post
|
Next Post
» »