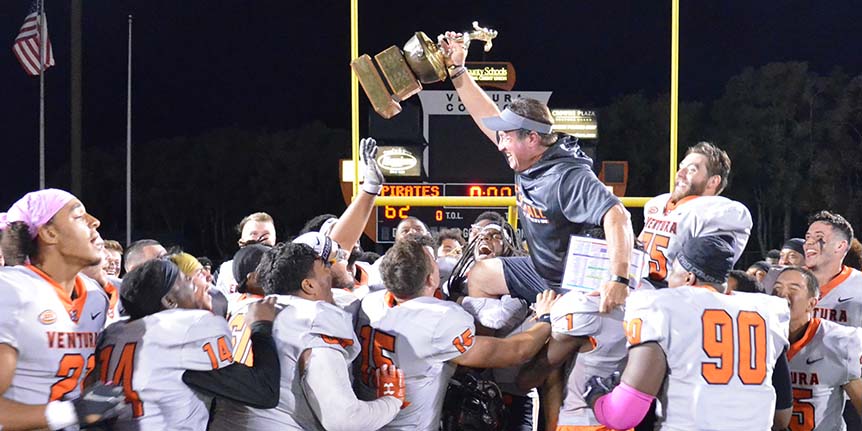 Ventura College's Steve Mooshagian Selected As 2018 ACCFCA Coach Of The Year
Ventura College Head Coach Steve Mooshagian has been named the 2018 American Community College Football Coaches Association (ACCFCA) Coach of the Year. The award will be presented to Mooshagian during the American Football Coaches Awards ceremony on Tuesday, January 8, at the 2019 AFCA Convention in San Antonio, Texas.
"First, there's not a better feeling than to be chosen as the recipient of this award, which is voted on by my peers for whom I have such great respect," Mooshagian said. "Being a former junior college football player and growing up the son of one of Southern California's all-time great high school head coaches, I firmly believe that junior college football is the last level of 'pure' football left, and it serves as a bridge between high school and four-year college football. I've been lucky enough to coach at every level, from high school to the NFL, and I have never witnessed a lone coach rodeo because it can't be done. You're only as good as the staff and support you have around you. I'm very fortunate to be surrounded by a great coaching staff, players and support system. I wouldn't be the 2018 ACCFCA Coach of the Year if it wasn't for each one of my coaches, players and supporters. I'm truly thankful and honored to have received it."
Mooshagian earned his first ACCFCA Coach of the Year honor after leading Ventura to an 11-2 overall record, the program's first-ever Southern California Football Association (SCFA) playoff victory and its first appearance in the California Community College Athletic Association (CCCAA) State Championship game in 2018. The Pirates earned an at-large bid into the SCFA playoffs and beat the state's only two remaining undefeated teams on the road to earn their trip to the state title game.
RELATED ARTICLE: Nick Saban & Chris Klieman Headline 2018 AFCA Regional Coach Of The Year Winners
Mooshagian completed his ninth season as head coach at Ventura and has a record of 70-30. He became the winningest head coach in Ventura history with a win over Long Beach on November 10, 2018. Mooshagian has guided the Pirates to the SCFA playoffs in four of the last five years, including three straight. The Pirates have won five SCFA Northern Conference titles, including four straight from 2014-17, and gone to six post-season bowl games under Mooshagian. In 2012, Mooshagian guided Ventura to the program's only undefeated season, going 11-0 and earning a trip the SCFA playoffs for the first time since 1999. He was named SCFA Northern Conference Coach of the Year for his efforts that season and has since added three more Coach of the Year honors.
Mooshagian played two seasons at wide receiver for Cerritos College (1978-79), then transferred to Fresno State from 1980 to 1981. He spent one season with the Los Angeles Express of the USFL in 1983 before going into coaching. After spending one season as the offensive coordinator at Washington Union (Calif.) High School, he was named the head coach in 1984 and helped lead the team to the California Interscholastic Federation Central Section title. In 1985, Mooshagian returned to Fresno State as an assistant coach, helping the Bulldogs to six bowl game appearances and six conference titles in his 10 seasons.
Mooshagian spent the 1995 season as the head coach at Fresno City College, then moved on to the University of Nevada as the offensive coordinator and quarterbacks coach in 1996. From 1997 to 1998, he was the offensive coordinator at the University of Pittsburgh, helping the Panthers to a Liberty Bowl appearance. Mooshagian then moved up to the NFL in 1999 as the wide receivers coach for the Cincinnati Bengals. After four seasons with the Bengals, he was named the head coach at Sacramento State in 2003. In his four years at Sacramento State, Mooshagian coached five Division I-AA All-Americans, three I-AA Freshmen All-Americans and 54 players who earned All-Big Sky Conference honors.
From 2007 to 2008, Mooshagian was the assistant head coach and wide receivers coach at the University of San Diego. He was named the head coach at Feather River College in 2009 before coming to Ventura in 2010. Mooshagian was inducted into the Downey (Calif.) High School Hall of Fame in May of 2013 for his athletic and coaching achievements.
For more information about the AFCA, visit www.AFCA.com. For more interesting articles, check out AFCAInsider.com and subscribe to our weekly email.
If you are interested in more in-depth articles and videos, please become an AFCA member. You can find out more information about membership and specific member benefits on the AFCA Membership Overview page. If you are ready to join, please fill out the AFCA Membership Request Form.
« «
Previous Post
|
Next Post
» »