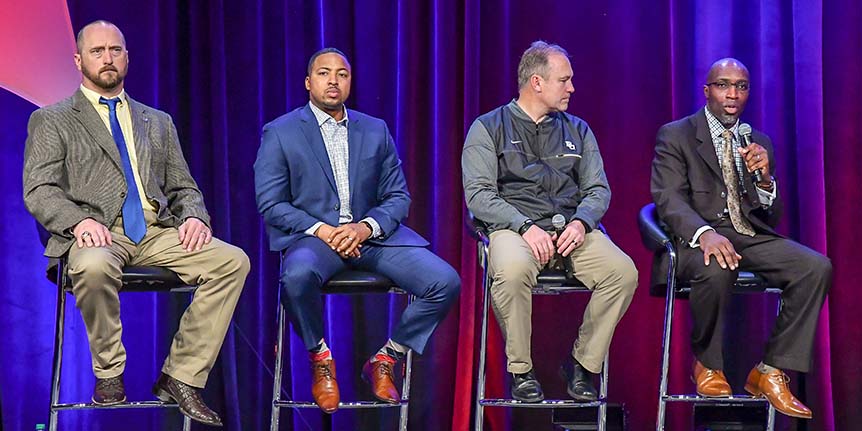 AFCA 2019 Convention: Faith, Family, Football Breakout Session [Preview]
Breakout Session – Faith, Family, Football
Tuesday, January 8 | 3:00-3:50 pm
Speakers: Thabiti Davis, Dallas Cowboys; Scotty Walden, University of Southern Mississippi; Brennan Marion, College of William & Mary; Carl Stralow, Keller High School (TX)
The American Football Coaches Association is excited to announce Thabiti Davis, Scotty Walden, Brennan Marion, and Carl Stralow as featured speakers at the 2019 AFCA Convention in San Antonio, Texas!
In this breakout session, a forum of experienced coaches join together to discuss how they incorporate faith and family into their everyday football lives. The first of the four speakers is Thabiti Davis. Davis most recently completed the Bill Walsh Fellowship with the Dallas Cowboys working with the wide receivers and special teams. Prior to the Cowboys, he was the special teams coordinator and wide receivers coach at Winston-Salem State University for four years. Davis has additional coaching experience with the Chicago Bears, as well as playing experience in the NFL, NFL Europe, and AFL.
Joining Davis is Scotty Walden. Walden is currently in his third year as the receivers coach at the University of Southern Mississippi. Walden's coaching career began at Sul Ross State University as a graduate assistant in 2012. Walden was then promoted to the offensive coordinator in his first year of coaching. After Sul Ross State, Walden was named the offensive coordinator and quarterbacks coach at East Texas Baptist University. In 2016, Walden had his first stint as head coach with the ETBU Tigers.
Brennan Marion adds his input to this breakout session, as well. Marion was recently named the offensive coordinator and quarterbacks coach at the College of William & Mary. Marion began his collegiate coaching career in 2015 at Arizona State University. In 2016, Marion joined the staff at Oklahoma Baptist University. Marion then transitioned to the role of offensive coordinator and quarterbacks coach at Howard University in 2017.
Rounding out the panel is Carl Stralow, head football coach at Keller High School (TX). Stralow began his high school coaching career in Florida, however it was not long until he moved to Texas to continue to advance his career. Prior to Keller, Stralow was an assistant coach at Coppell High School (TX) and Colleyville Heritage High School (TX).
For more information about the AFCA, visit www.AFCA.com. For more interesting articles, check out AFCAInsider.com and subscribe to our weekly email.
If you are interested in more in-depth articles and videos, please become an AFCA member. You can find out more information about membership and specific member benefits on the AFCA Membership Overview page. If you are ready to join, please fill out the AFCA Membership Request Form.
« «
Previous Post
|
Next Post
» »