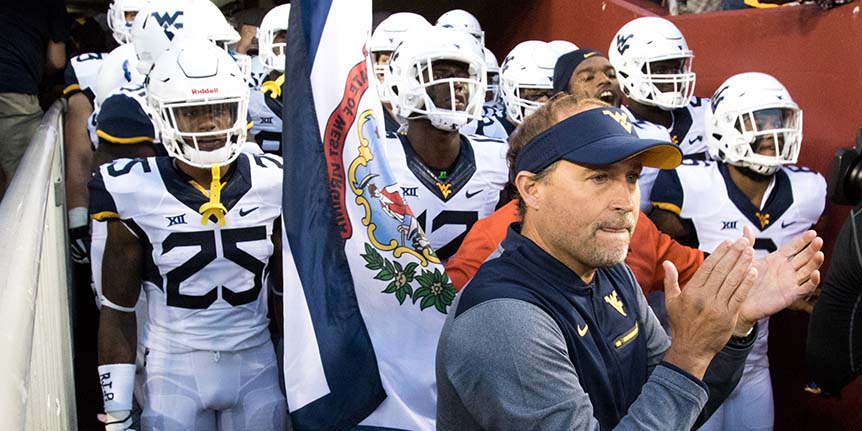 AFCA 2019 Convention: General Session, Dana Holgorsen [PREVIEW]
General Session
Monday, January 7 | 4:15-5:00pm
Speaker: Dana Holgorsen, West Virginia University
The American Football Coaches Association is excited to announce Dana Holgorsen as a featured speaker at the 2019 AFCA Convention in San Antonio, Texas!
Dana Holgorsen became the West Virginia Mountaineers' head coach in 2011. Leading up to his time as head coach at WVU, Holgorsen served under innovative coaches such as Hal Mumme, Mike Leach, Kevin Sumlin, and Mike Gundy. Prior to WVU, Holgorsen was most recently the offensive coordinator and quarterbacks coach at Oklahoma State. In his first season, Oklahoma State's offense led the nation in total offense, averaging 537.6 yards per game; was No. 2 in passing offense, averaging 354.7 yards per game; and No. 3 in scoring offense, averaging 44.9 points per game. Holgorsen also had coaching stops at Houston, Texas Tech, Wingate, Mississippi College, and Valdosta State.
For more information about the AFCA, visit www.AFCA.com. For more interesting articles, check out AFCAInsider.com and subscribe to our weekly email.
If you are interested in more in-depth articles and videos, please become an AFCA member. You can find out more information about membership and specific member benefits on the AFCA Membership Overview page. If you are ready to join, please fill out the AFCA Membership Request Form.
« «
Previous Post
|
Next Post
» »