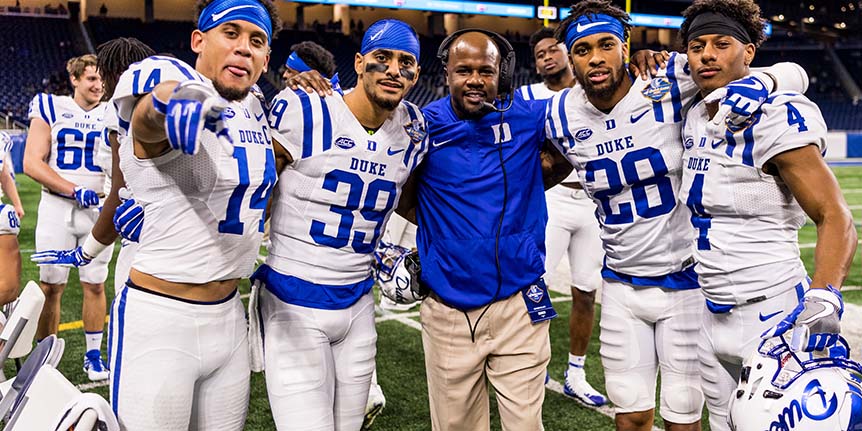 AFCA 2019 Convention: Always Play 2 Win With Derek Jones [PREVIEW]
Breakout Session – Always Play 2 Win
Tuesday, January 8 | 3:00-3:50 pm
Speaker: Derek Jones, Duke University
The American Football Coaches Association is excited to announce Derek Jones as a featured speaker at the 2019 AFCA Convention in San Antonio, Texas!
Always play to win (AP2W) has been Duke associate head coach Derek Jones' motto. But what does "always play to win" mean exactly? Well, to Coach Jones it means thinking ahead, making wise decisions, maintaining a positive outlook, making sacrifices, paying attention to detail, doing the little things right, leading by example, being a good listener, surrounding yourself with the right people, being conscious of your surroundings, watching what you say, not taking shortcuts, finishing what you start, being a person of your word, being humble, being a person of integrity, being reliable, being accountable, being responsible, protecting your reputation, having self respect, being respectful of others, being presentable, being professional, not being afraid to be different, having drive, having determination, persevering, thinking before you act or react, being a good friend, family member, companion, and above all else being a good spouse and parent. To Coach Jones, AP2W is a way of life. Come and see why.
For more information about the AFCA, visit www.AFCA.com. For more interesting articles, check out AFCAInsider.com and subscribe to our weekly email.
If you are interested in more in-depth articles and videos, please become an AFCA member. You can find out more information about membership and specific member benefits on the AFCA Membership Overview page. If you are ready to join, please fill out the AFCA Membership Request Form.
« «
Previous Post
|
Next Post
» »