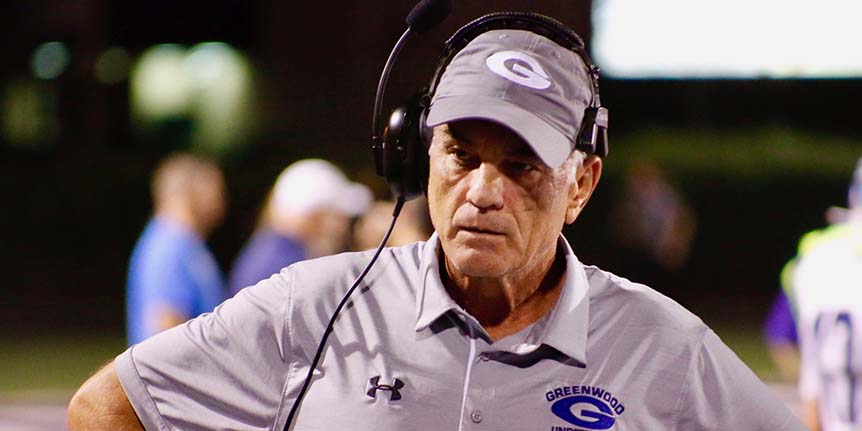 AFCA 2019 Convention: Rick Jones [PREVIEW]
General Session – Power of Influence Award
Monday, January 7 – 3:35-4:05 pm
Speakers: Rick Jones, Greenwood (Ark.) High School
The American Football Coaches Association is excited to announce the 2018 AFCA/AFCF Power of Influence Award winner Rick Jones as a featured speaker at the 2019 AFCA Convention in San Antonio, Texas!
In 2004, Rick Jones began coaching at Greenwood (Ark.) High School. During the past 14-plus seasons, he has built a dynasty, guiding his teams to seven state championships and 10 finals appearances. In his 40-plus seasons as a head coach, Jones' overall record stands at 303-73; his current record at Greenwood stands at 171-24.
Prior to coaching, Jones played college football at Harding (Ark.) University, earning both a bachelor's and a master's degree. He began his coaching career in 1976 and spent two seasons with Harding before becoming the assistant coach at Del City (Okla.) High School in 1978.
In 1983, he became an assistant coach at Putnam City (Okla.) High School. After two seasons in Putnam City, Jones moved on to Edmond North (Okla.) High School as an assistant. Then, after one season, he was elevated to head coach. His record during his four seasons was 41-10, which included leading the team to a state championship.
In 1990, Jones became the head coach at Tulsa Union (Okla.) High School. He earned an overall record of 19-7 in his two seasons before taking as assistant coaching position at Missouri State University. After four seasons in college football, Jones returned to high school football as the head coach at Broken Arrow (Okla.) High School in 1996. In his eight seasons, Jones led Broken Arrow to a 72-32 overall record and the program's first-ever state championship game appearance in 2002.
For more information about the AFCA, visit www.AFCA.com. For more interesting articles, check out AFCAInsider.com and subscribe to our weekly email.
If you are interested in more in-depth articles and videos, please become an AFCA member. You can find out more information about membership and specific member benefits on the AFCA Membership Overview page. If you are ready to join, please fill out the AFCA Membership Request Form.
« «
Previous Post
|
Next Post
» »