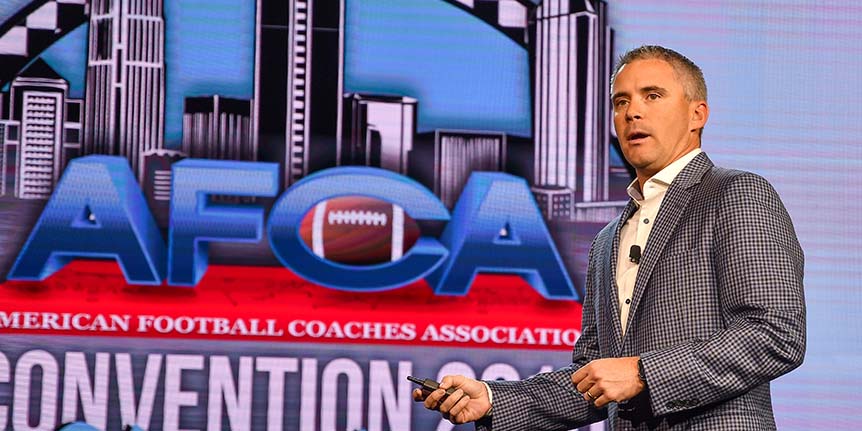 Top 10 Things You Need To Do At The 2019 AFCA Convention
As the countdown to the 2019 AFCA Convention in San Antonio is nearing zero, we want to provide a preview of what to look forward to. Whether it's your first time to the Convention or your most recent, make sure you put all of our Top 10 things you need to do on your itinerary!
AFCA Skills & Drills Field
Presented by VICIS
How many times do you attend a clinic and wish you could see a coach demonstrate a drill with actual athletes? This was a new addition to the 2018 Convention, and it's quickly become a MUST SEE. Located in the Exhibit Hall with equipment from Rogers Athletic, there will be coaches teaching position-specific drills throughout the morning and afternoon on Sunday (starting at 9:30 AM) and Monday (starting at 9:30 AM). This year will also feature some strength and conditioning sessions. This is your chance to pick up a drill or exercise to take back to your team!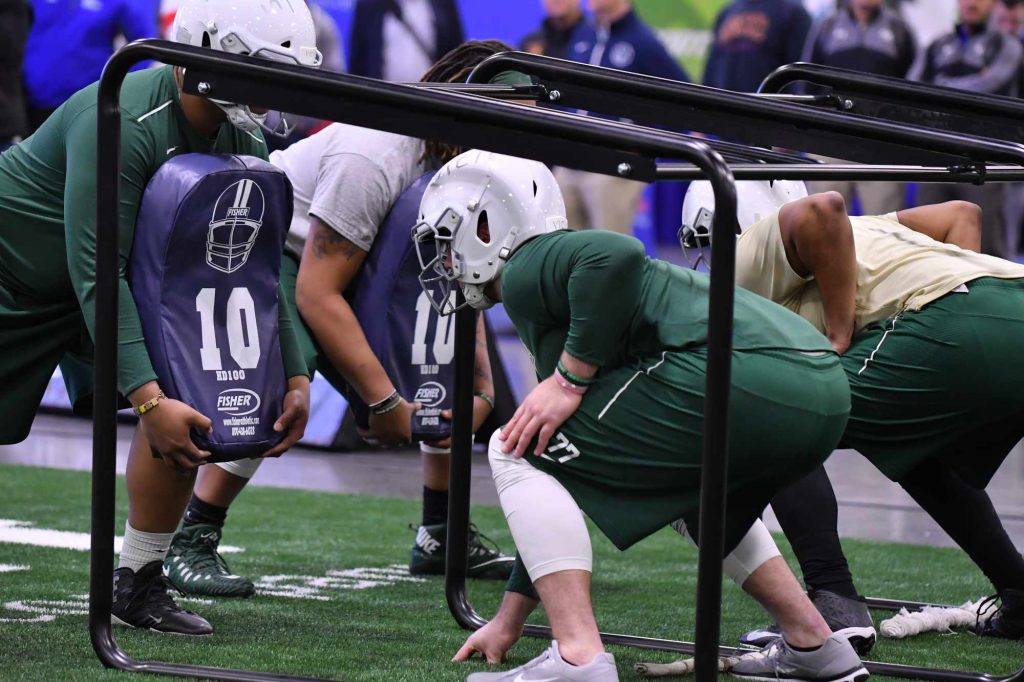 High School Coaches Academy
There's nothing like a high school football coach! These sessions are catered specifically towards helping high school coaches develop their programs. With three sessions on Sunday afternoon and another three on Monday morning, sessions will cover offense, defense, building team culture, and helping athletes develop explosion in the weight room. DON'T MISS out on this great opportunity starting at 2 PM!
Kickoff Speaker
Presented by Sparta Science
You won't want to miss the first speaker to KICK OFF the 2019 Convention. This session will get your experience in San Antonio started off on the right foot, as it's always informational and entertaining! This session takes place Sunday, January 6, at 5 PM.
Buzz Sessions
Presented by Sports Attack
You come to Convention to improve as a coach—here's a perfect opportunity! Come learn from some of the best coaches in the profession as they break down the finer details of X's and O's by position. Not a position coach? There are also presentations by offensive and defensive coordinators covering their philosophies. With multiple hour-long sessions at 6 PM and 7 PM on Sunday, January 6, find the sessions that are right for you to continue your development within the game.
GA Forum
Year in and year out, the Graduate Assistant Forum is one of the most highly attended sessions, so get there early to grab a seat! You'll hear from coaches who have held GA positions and learn about their career path, plus head coaches share what they look for when hiring coordinators, assistants, and staff members. This session begins at 9 AM on Monday, January 7. Take notes, because this could help you land your next position!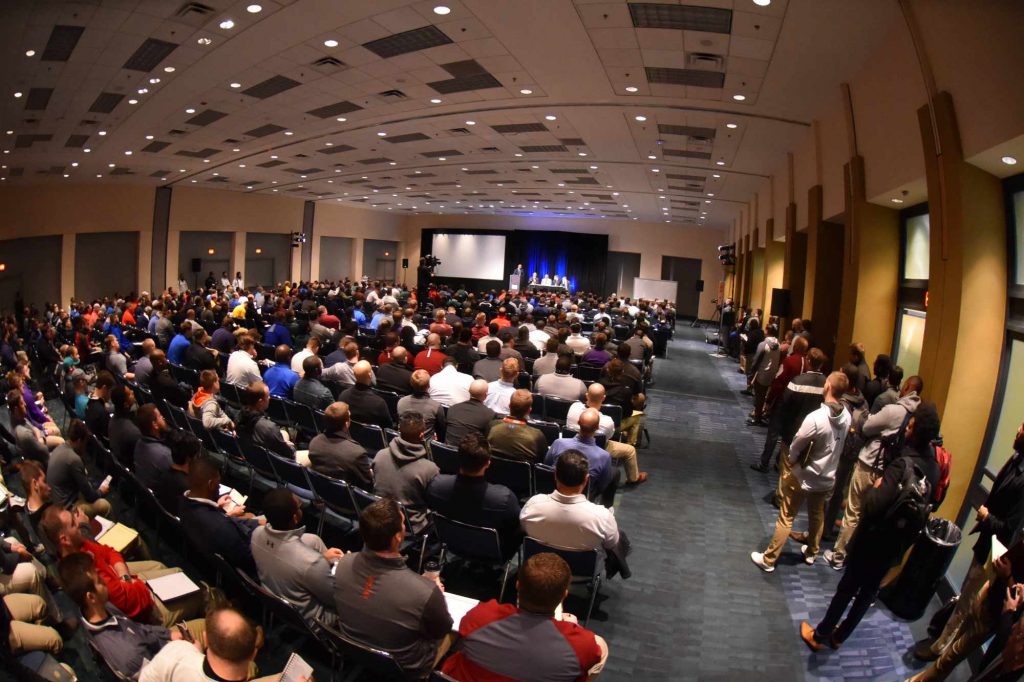 General Sessions
Monday, January 7, 1:30 PM presented by TeamSnap
Tuesday, January 8, 8:30 AM presented by VICIS 
Without a doubt, these sessions feature some of the premiere head coaches in the collegiate game. It's not about the X's and O's, but the talks focus on the culture and mindset that they engrain in the people within their programs. Bring a notepad and listen closely, because each of these presentations is a master class!
Need an example? Click HERE to listen to Nick Saban's 2014 General Session!
Tailgate Party
Presented by FieldTurf
Who will hoist the Crystal Ball? Let's face it, you're going to watch the College Football Playoff National Championship—come to this FREE EVENT that features delicious food, cold drinks, massive screens, and fellow coaches. Doors will open at 6:30 PM on Monday, January 7.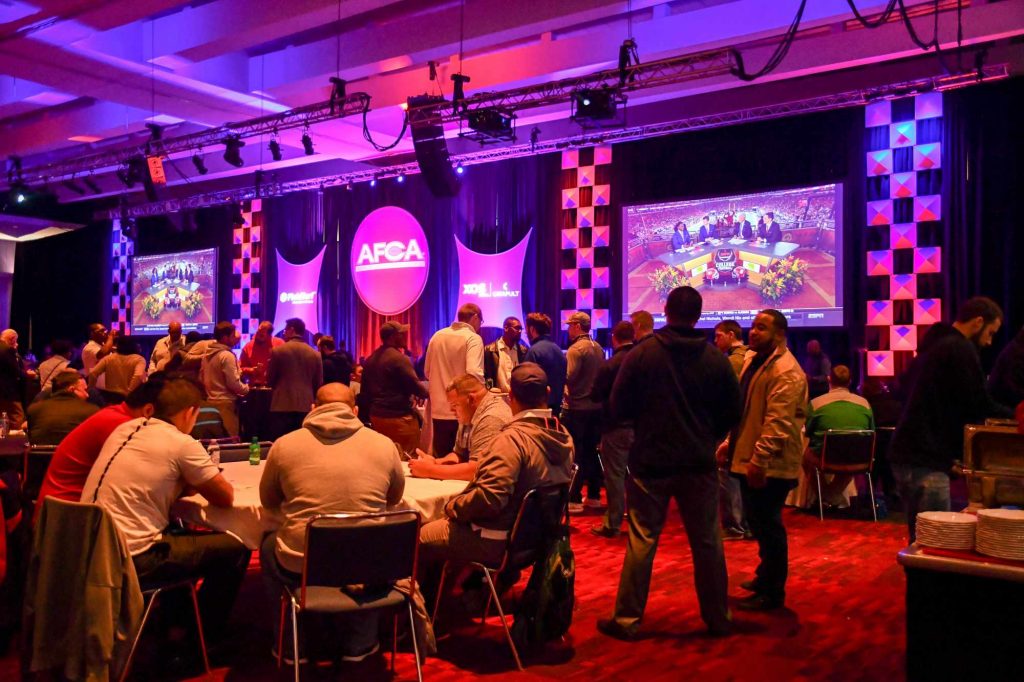 Breakouts
X's and O's are only part of football—we all know there's much more to being a coach, and we have you covered. Tuesday afternoon we'll have sessions covering personal and professional development—including a Young Coaches' Panel—and we are bringing back our "Happy Wife, Happy Life" and "Faith, Family, Football" sessions from last year's Convention.
Victory Formation Speaker
An informal, interactive Q&A session with a championship coach where YOU ASK THE QUESTIONS. Coaches in the audience use their phones to submit questions, and the moderator selects the best ones to ask the speaker. Coach Bob Stoops spoke in this session last year, and anyone who heard it would tell you it's far from a traditional interview. This year's session will take place on Tuesday, January 8.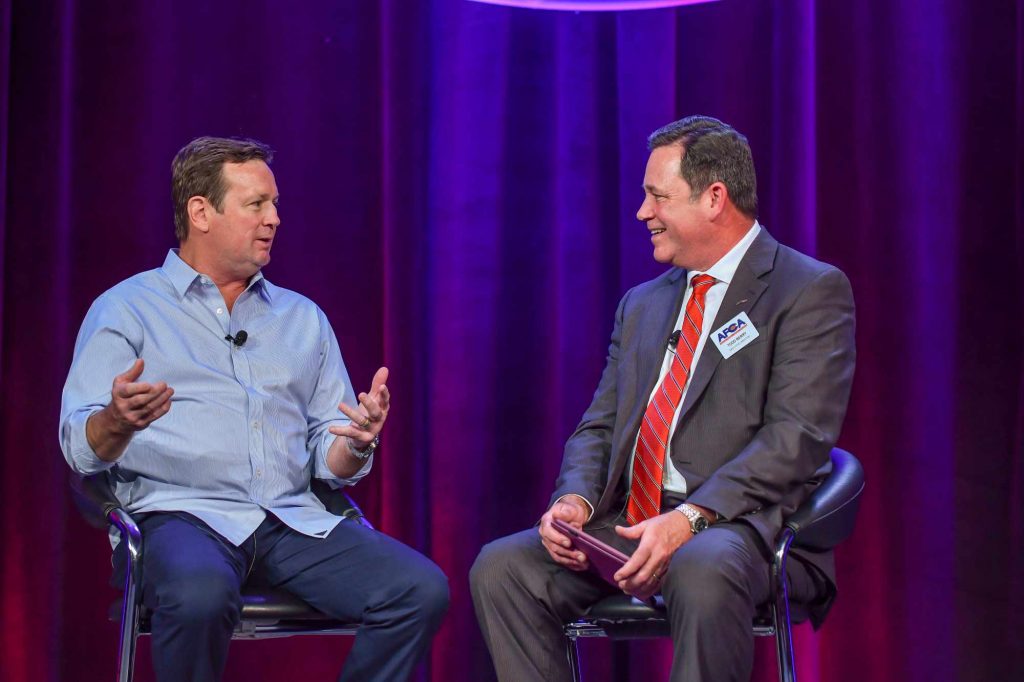 Chalk Talks
The Convention keeps running on Wednesday morning, January 9, starting at 8 AM! Want to end your trip on a high note before catching your flight home? Attend these Chalk Talks that focus on offense, defense, or special teams. These speakers are always willing to share their insights and expertise, and there's no question that these sessions often offer some of the highest rewards in terms of coaching the X's and O's!
These are just some of the things you have to look forward to during your time in San Antonio. There's nothing like the coaching profession, simply being around so many other members of the coaching fraternity is a powerful experience. We hope you are as excited as we are for another great Convention. See you in San Antonio!
For more information about the AFCA, visit www.AFCA.com. For more interesting articles, check out AFCAInsider.com and subscribe to our weekly email.
If you are interested in more in-depth articles and videos, please become an AFCA member. You can find out more information about membership and specific member benefits on the AFCA Membership Overview page. If you are ready to join, please fill out the AFCA Membership Request Form.
« «
Previous Post
|
Next Post
» »