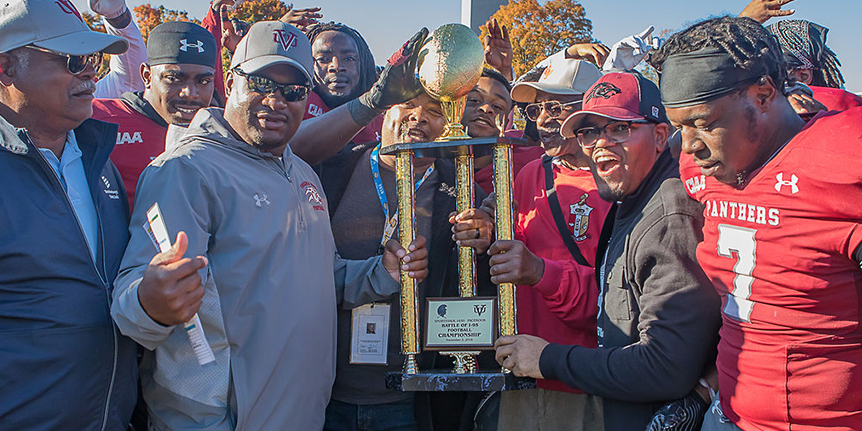 AFCA 2019 Convention: Books & Ball Breakout Session [PREVIEW]
Breakout Session – Books & Ball
Tuesday, January 8 – 3:00-3:50pm
Speaker: Dr. Alvin Parker, Virginia Union University
The American Football Coaches Association is excited to announce Dr. Alvin Parker as a featured speaker at the 2019 AFCA Convention in San Antonio, Texas!
Dr. Parker, head coach at Virginia Union University, leads a panel of coaches with terminal degrees in the featured breakout session, Books & Ball.
Throughout his coaching career, Dr. Parker has coached and mentored three NFL players, seven All-Americans, and nearly 90 All-Conference players. With over two decades of coaching experience, Coach Parker has seen first-hand the significant role terminal degrees have when it comes to coaching and mentoring athletes. In this panel, he highlights the importance of higher education both as a coach and a player. Dr. Parker breaks down the fundamentals of books and ball while encouraging coaches to focus on mentoring their athletes both on and off the field.
For more information about the AFCA, visit www.AFCA.com. For more interesting articles, check out AFCAInsider.com and subscribe to our weekly email.
If you are interested in more in-depth articles and videos, please become an AFCA member. You can find out more information about membership and specific member benefits on the AFCA Membership Overview page. If you are ready to join, please fill out the AFCA Membership Request Form.
« «
Previous Post
|
Next Post
» »