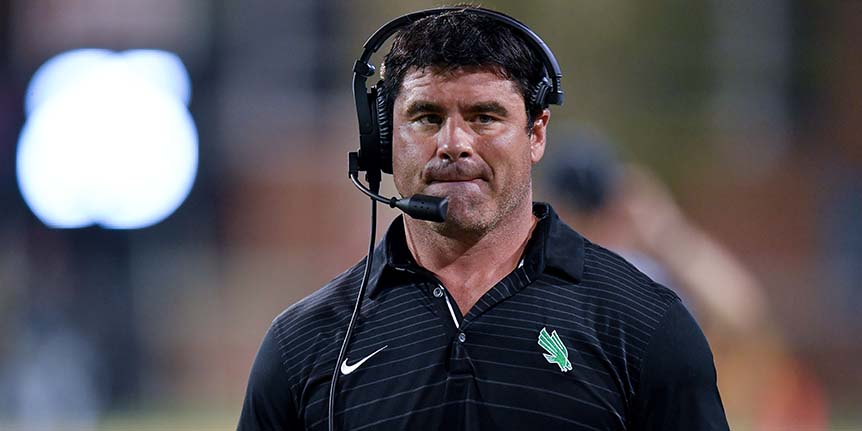 AFCA 2019 Convention: 1 On 1 With Seth Littrell – A Fast Rise To Success [PREVIEW]
General Session
Monday, January 7 | 2:30-3:30 pm
Speaker: Seth Littrell, University of North Texas
The American Football Coaches Association is excited to announce Seth Littrell as a featured speaker at the 2019 AFCA Convention in San Antonio, Texas!
This general session will consist of a Q&A format where coaches in the audience have the opportunity to submit questions to the moderator, AFCA Executive Director Todd Berry, who will then pick from the selection and ask Coach Littrell.
Seth Littrell has been the head coach of the University of North Texas football team since 2016. In 2002, Littrell started his coaching career as a graduate assistant for the Kansas Jayhawks for two seasons. Then, under Mike Leach, he was the running backs coach at Texas Tech University from 2005 to 2008.
From 2009 until 2011, Littrell coached the offense at the University of Arizona. In 2012, Littrell was named the offensive coordinator and tight ends coach at Indiana University. From 2014 to 2015, Littrell was the assistant head coach for offense and tight ends coach at the University of North Carolina under Larry Fedora. In Littrell's last season at North Carolina, the team finished 11–3 and first place in the ACC Coastal Division.
For more information about the AFCA, visit www.AFCA.com. For more interesting articles, check out AFCAInsider.com and subscribe to our weekly email.
If you are interested in more in-depth articles and videos, please become an AFCA member. You can find out more information about membership and specific member benefits on the AFCA Membership Overview page. If you are ready to join, please fill out the AFCA Membership Request Form.
« «
Previous Post
|
Next Post
» »