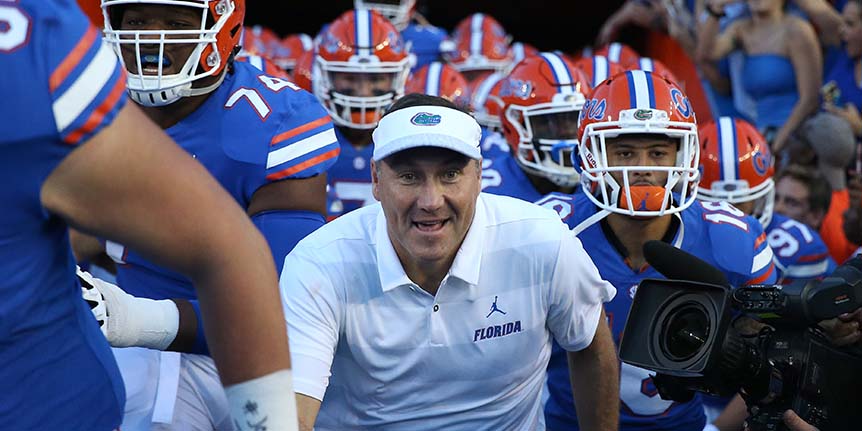 AFCA 2019 Convention: General Session, Dan Mullen [PREVIEW]
General Session
Tuesday, January 8 | 11:00 am – 12:00 pm
Speaker: Dan Mullen, University of Florida
The American Football Coaches Association is excited to announce Dan Mullen as a featured speaker at the 2019 AFCA Convention in San Antonio, Texas!
Dan Mullen recently completed his first season as the head coach at the University of Florida. Mullen was the head coach at Mississippi State University from 2009-2017.
Prior to his hiring at Mississippi State, Mullen served as a quarterbacks coach and offensive coordinator at Florida. Mullen also coached the quarterbacks at the University of Utah during their undefeated 2004 season. He developed quarterback, Alex Smith into the No. 1 overall pick in the 2005 NFL Draft. During his tenure at Utah, he recruited and partially developed Brian Johnson, a quarterback who led Utah to 13–0 and a Sugar Bowl victory in 2009.
Throughout his coaching career, Mullen made stops at Bowling Green State University, the University of Notre Dame, Syracuse University, Columbia University, and Wagner College.
For more information about the AFCA, visit www.AFCA.com. For more interesting articles, check out AFCAInsider.com and subscribe to our weekly email.
If you are interested in more in-depth articles and videos, please become an AFCA member. You can find out more information about membership and specific member benefits on the AFCA Membership Overview page. If you are ready to join, please fill out the AFCA Membership Request Form.
« «
Previous Post
|
Next Post
» »