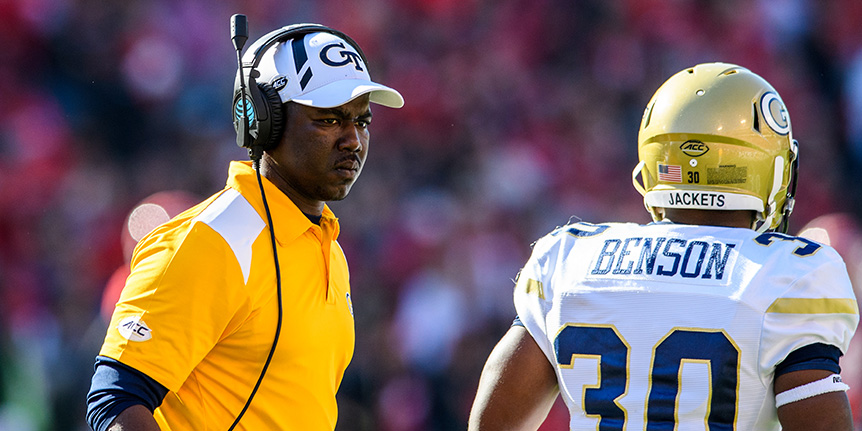 AFCA 2019 Convention: Young Coaches Forum Breakout Session [PREVIEW]
Breakout Session – Young Coaches Forum
Tuesday, January 8 – 2:00-2:50pm
Speakers: Lamar Owens, Georgia Tech; Re'quan Boyette, Duke University; Jason Lovvorn, First Baptist Academy (TX); Todd Hartley, University of Miami; Nate Brown, University of North Texas
The American Football Coaches Association is excited to announce Lamar Owens, Re'quan Boyette, Jason Lovvorn, Todd Hartley, and Nate Brown as a featured panel at the 2019 AFCA Convention in San Antonio, Texas!
In this breakout session, a forum of young coaches comes together to address how they have established themselves as successful coaches at the beginning of their careers. This year's forum features four coaches from a variety of different backgrounds. Lamar Owens leads the panel with the most experience thus far, as he is in his 11th season overall at Georgia Tech and his ninth season as the Yellow Jackets' A-backs coach. He added special teams coordinator to his responsibilities in 2016 and was tabbed as the program's recruiting coordinator in 2017.
Joining Owens is Re'quan Boyette who is entering his seventh year as a running backs coach at Duke University. A former player for the Blue Devils, Boyette began his coaching career as a graduate assistant at Duke in 2012.
Josh Lovvorn will add his perspective to the panel, as well. Lovvorn is the head of school, athletic director, and head football coach at First Baptist Academy (TX). Lovvorn joined FBA in 2008 after graduating with a Bachelor's degree in Business Administration from Baylor University. Lovvorn played NCAA football for three years at Baylor University and one year at Howard Payne University.
Todd Hartley is in his third year with the Hurricanes, where he serves as the special teams coordinator and tight ends coach. He got his start in coaching as a student assistant at Georgia, but has also been an offensive quality control coach at West Virginia (2008), and later served as a defensive graduate assistant (2009-2011) and director of player personnel (2015) back at Georgia. His first full-time position was coaching safeties and the special teams at Marshall (2011-2013) before crossing over to work with the tight ends during his final two seasons with the Herd.
Last, but certainly not least, is Nate Brown who currently serves as the cornerbacks coach for the University of North Texas. Coach Brown was brought on as a defensive graduate assistant in 2012 after playing football at the University of Louisiana-Monroe. Brown became a full-time assistant at Millsaps College before joining the staff at Grambling State, then advancing his career to UNT.
Within this forum, these four impressive young coaches elaborate on the ups and downs of their coaching journey and provide advice to other young coaches who are also looking to continue to advance their careers.
For more information about the AFCA, visit www.AFCA.com. For more interesting articles, check out AFCAInsider.com and subscribe to our weekly email.
If you are interested in more in-depth articles and videos, please become an AFCA member. You can find out more information about membership and specific member benefits on the AFCA Membership Overview page. If you are ready to join, please fill out the AFCA Membership Request Form.
|
Next Post
» »