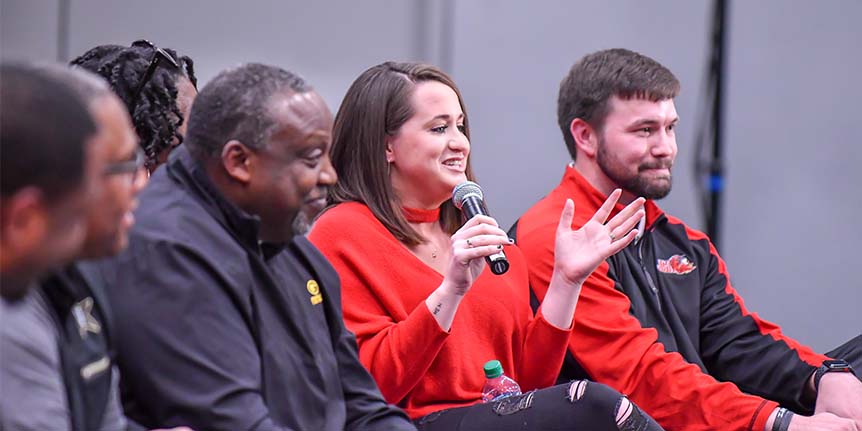 AFCA 2019 Convention: Happy Wife, Happy Life Breakout Session [PREVIEW]
Breakout Session – Happy Wife, Happy Life
Tuesday, January 8 – 2:00-2:50pm
Speakers: Braxton Harris, Howard Payne University; Joshua Eargle, Austin Peay University; Scott McConnell, Hampton University; Jason Eck, South Dakota State University
The American Football Coaches Association is excited to announce the very popular Happy Wife, Happy Life panel will be returning at the 2019 AFCA Convention in San Antonio, Texas, as a Breakout Session.
Happy Wife, Happy Life features a forum of coaches who are joined by their wives in a discussion of work-life balance and the challenges coaching brings to their family. This year's panel features Braxton Harris, head football coach at Howard Payne University; Joshua Eargle, offensive coordinator at Austin Peay University; Scott McConnell, tight ends coach at Hampton University; and Jason Eck, running game coordinator and offensive line coach at South Dakota State University.
This experienced group of coaches will touch on what has been successful in their marriages when it comes to balancing their careers and their lives at home. Additionally, their wives elaborate and give advice on what it truly means to be a coach's wife. This panel moves away from the X's and O's, and focuses on what makes the best husband and father, because, in the end, a happy wife means a happy life.
For more information about the AFCA, visit www.AFCA.com. For more interesting articles, check out AFCAInsider.com and subscribe to our weekly email.
If you are interested in more in-depth articles and videos, please become an AFCA member. You can find out more information about membership and specific member benefits on the AFCA Membership Overview page. If you are ready to join, please fill out the AFCA Membership Request Form.
« «
Previous Post
|
Next Post
» »