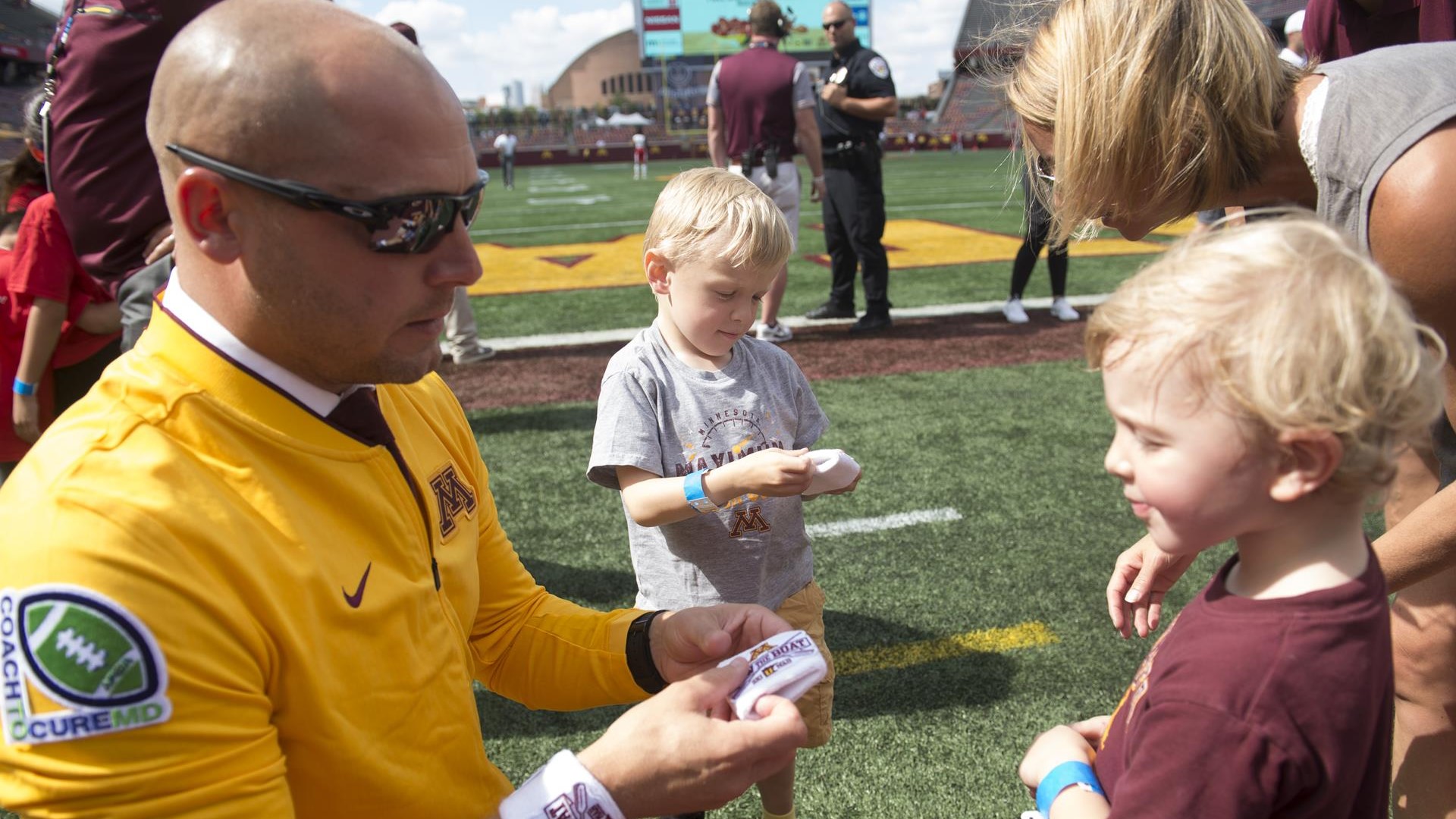 Football Coaches Kick Off 12th Season of Coach To Cure MD Presented by Werner Ladder
For the 12th consecutive year, college football coaches nationwide will drive an awareness campaign in September called Coach To Cure MD presented by Werner Ladder. The push culminates the weekend of Saturday, September 28, 2019 when coaches nationwide will wear patches on the sidelines with the cause's logo, with many also hosting boys battling Duchenne muscular dystrophy (Duchenne) on their sidelines.
Werner, the World Leader in Ladders, joins the American Football Coaches Association (AFCA) in its efforts to cure Duchenne this season as the Presenting Sponsor of Coach To Cure MD. Coach To Cure MD is an initiative of Parent Project Muscular Dystrophy (PPMD), the largest, most comprehensive nonprofit organization in the U.S. focused entirely on Duchenne.
Now in its twelfth year, Coach To Cure MD, annually involves over 10,000 football coaches at over 500 college and high school programs, making it the largest national game day charity event in football.
RELATED ARTICLE: Werner Ladder To Sponsor AFCA FBS National & Regional Coach Of The Year Awards
Duchenne is the most common fatal genetic disorder diagnosed during childhood, primarily affecting boys of all cultures. People with Duchenne develop progressive muscle weakness that eventually causes loss of mobility, wheelchair dependency, and a decline in respiratory and cardiac function. Currently, there is no cure for Duchenne. But thanks to Coach To Cure MD presented by Werner Ladder and the work of PPMD, there is hope.
A decade ago, few people in America knew about Duchenne and fewer still had reason to hope that any treatment for the fatal genetic disorder was on the horizon. Thanks in part to college football coaches, awareness of this disorder is at an all-time high and new treatments are in the pipeline – including two approved therapies – giving optimism for the families battling this progressive muscle disorder.
"The AFCA and our members take great pride in our annual work with Parent Project Muscular Dystrophy," AFCA Executive Director Todd Berry said. "We are thrilled to add Werner Ladder this year to support our cause and are confident they will multiply our work to raise awareness and much needed funds to help find a cure for Duchenne muscular dystrophy. Our goal is for every football fan to learn about this disorder and join us in the fight for a cure."
"Partnering with Parent Project Muscular Dystrophy and sponsoring Coach To Cure MD is a great privilege," said Stacy Gardella, Vice President of Brand Marketing at WernerCo. "We want to bring awareness to this terrible disease and challenge others to 'step up' with Werner Ladder to help find a cure."
The event has become a focal point in the greater fight to end Duchenne. In addition to the coaches' efforts, families affected by Duchenne will also gather for fundraising tailgate parties on campuses around the country to encourage more fans to get involved.
"Football is a team sport. Similarly with Duchenne, it will take a community of researchers, scientists, clinicians, industry partners, and of course families, to find treatments and stop the progression of this devastating disease. The ongoing commitment of the dedicated coaches in the AFCA is a major asset in this fight and we believe that Werner Ladder's engagement will help make sure every fan has a chance to join our cause," said Pat Furlong, founding president and CEO of PPMD. "Because of the dedication of all the coaches who honor our families and thanks to college football fans donating nationwide, we keep getting closer to the day we end Duchenne."
For more information about the AFCA, visit www.AFCA.com. For more interesting articles, check out AFCAInsider.com and subscribe to our weekly email.
If you are interested in more in-depth articles and videos, please become an AFCA member. You can find out more information about membership and specific member benefits on the AFCA Membership Overview page. If you are ready to join, please fill out the AFCA Membership Request Form.
« «
Previous Post
|
Next Post
» »