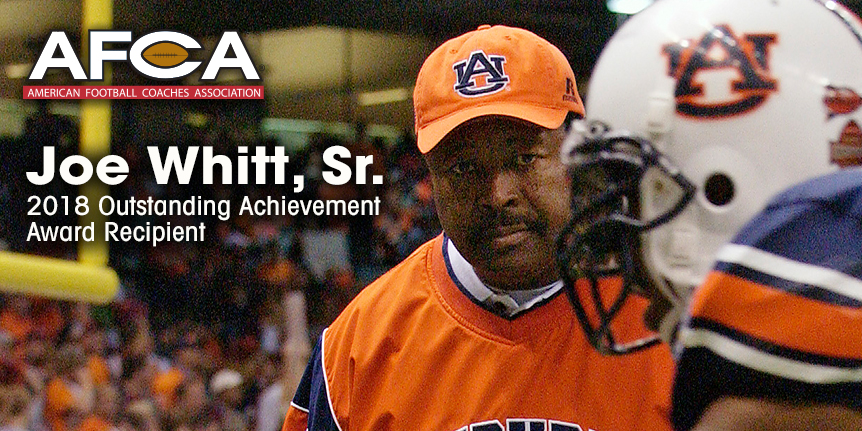 Long-Time Auburn Assistant Joe Whitt To Receive 2018 Outstanding Achievement Award
Long-time assistant coach Joe Whitt, Sr., is this year's recipient of the AFCA 2018 Outstanding Achievement Award. The AFCA Board of Trustees created the Outstanding Achievement Award in order to recognize AFCA members, past and present, who have achieved outstanding success while coaching football.
"Receiving this award means so much to me because it means I coached with a lot of great men and had a lot of great student-athletes play for me," Joe Whitt, Sr., said. "I'm very humbled by this honor and don't have the words to express what it really means to me. I'm grateful to the AFCA for this honor."
RELATED ARTICLE: Former Buffalo Bills Head Coach Marv Leavy To Receive 2019 Amos Alonzo Stagg Award
Whitt is a 1976 graduate from Alabama State University where he earned his bachelor's and master's degrees. He was also a three-year defensive end on the football team. Whitt's coaching career began in 1974 as an assistant coach at Robert E. Lee (Ala.) High School. After seven years at Robert E. Lee, he moved on to Auburn University as outside linebackers coach and assistant head coach.
In his 25 years as an assistant coach at Auburn, Whitt was dedicated to four different head coaches in numerous roles. Whitt was a defensive assistant, coaching defensive ends, the defensive line and linebackers, for 12 seasons under the direction of Pat Dye, six seasons under Terry Bowden, half a season for interim coach Bill Oliver and seven seasons under Tommy Tuberville.
Whitt was a part of five SEC titles (1983, 1987, 1988, 1989 and 2004), two undefeated seasons (1993 and 2004) and coached in 17 bowl games. Twenty of his former players moved on to play in the NFL. Whitt was known as one of the game's top recruiters and retired from coaching after the 2005 season.
After coaching, Whitt became an assistant athletic director and fundraiser at Auburn for nine years. Whitt is a member of the Alabama State University Board of Trustees and has been inducted into the Blount (Ala.) High School and Lee (Ala.) High School Halls of Fame.
For more information about the AFCA, visit www.AFCA.com. For more interesting articles, check out AFCAInsider.com and subscribe to our weekly email.
If you are interested in more in-depth articles and videos, please become an AFCA member. You can find out more information about membership and specific member benefits on the AFCA Membership Overview page. If you are ready to join, please fill out the AFCA Membership Request Form.
« «
Previous Post
|
Next Post
» »