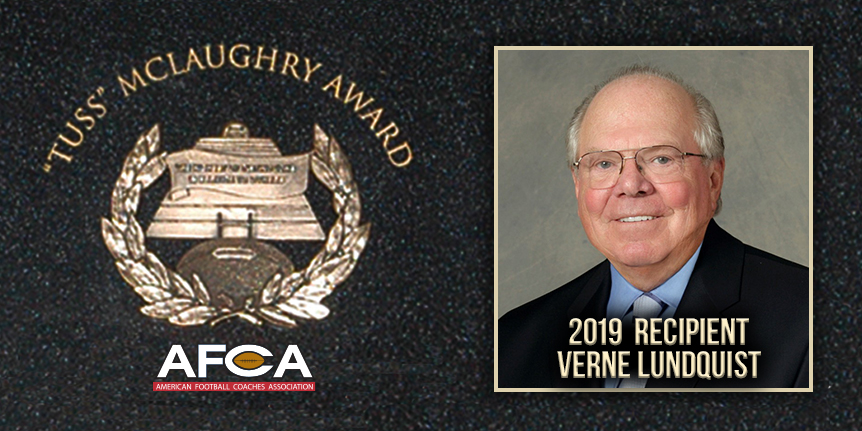 Verne Lundquist To Receive The AFCA's 2019 Tuss McLaughry Award
Hall of Fame broadcaster Verne Lundquist has been chosen as the 2019 recipient of the AFCA's highest honor, the 2019 Tuss McLaughry Award. Lundquist will receive the award during the 2019 AFCA Convention in San Antonio, Texas.
During his 54 years in broadcasting, Lundquist manned the announcer's booth at ABC Sports, CBS Sports, and Turner Sports, in addition to serving as the radio voice of the Dallas Cowboys for more than a decade. He has called more than 20 sports, but is best-known as the lead play-by-play voice of the SEC on CBS, a role that made him one of the most recognizable personalities in the business.
Lundquist was born in 1940 in Duluth, Minnesota, and grew up in Everett, Washington, and Austin, Texas, attending Austin High School and serving as PA announcer for basketball games. While at Texas Lutheran, he worked at the local radio station, KWED, his first professional broadcasting job.
RELATED ARTICLE: Former Morgan State Head Coach Earl Banks Selected As 2018 Trailblazer Award Recipient
In 1963, he joined KTBC-TV/Radio Austin as a weekend TV sports anchor and afternoon-drive radio host and was soon named full-time sports anchor. After a short stint as a nightly news anchor at WOAI-TV San Antonio in 1966, he became the lead sports anchor and sports director at WFAA-TV Dallas, serving in that role for 16 years.
In addition to his role at WFAA, Lundquist spent four years as pre/postgame and halftime host for the Dallas Cowboys on KLIF-AM. In 1970, he entered the Cowboys booth as color commentator, alongside play-by-play man Bill Mercer, and was elevated to lead play-by-play voice in 1972, a role he would remain in until 1984.
Lundquist became a beloved sports figure in Dallas, winning seven consecutive Texas Sportscaster of the Year Awards (1977-83). He was inducted into the Texas Radio Hall of Fame in 2003 and the Texas Sports Hall of Fame in 2005.
The exposure offered by calling games for "America's Team" led to Lundquist's first broadcast-network opportunity with ABC Sports, calling a handful of college football games in 1974. The following year, he called his first national game — No. 2 Texas A&M vs. No. 5 Texas — and became a fixture on ABC Sports, serving on Wide World of Sports and calling everything from golf to bowling to boxing and even the North American Soccer League.
In 1982, CBS Sports offered Lundquist a small package of six football games and two basketball games. Before the football season was done, that six-game package became 10, and he added 17 golf tournaments to his work, as well.
RELATED ARTICLE: Greenwood High School's Rick Jones To Receive 2018 Power Of Influence Award Presented By TeamSnap
Lundquist would go on to become a fixture of the NFL on CBS over the next decade, working extensively with Terry Bradshaw and Dan Fouts and occasionally with John Madden. In addition, he became one of the most recognizable presences on CBS's golf coverage, calling his first Masters in 1983, and every one since except 1997 and 1998, the first of 20 PGA Championships and other PGA TOUR events. His arrival at CBS also marked the beginning of a 32-year run as play-by-play announcer for CBS Sports' NCAA Division I Men's Basketball Championship coverage.
Lundquist also made a name for himself at the rink, serving as lead play-by-play announcer for figure skating at the 1992, 1994 and 1998 Winter Olympic Games. He also called NBA on CBS and other sports including track and field, swimming and diving, boxing, volleyball, gymnastics, soccer, weightlifting, free-style skiing, archery and horse racing.
After CBS lost the NFL in 1993, Lundquist headed to Turner Sports from 1995 to 1997, where he did play-by-play for the NBA on TNT with Chuck Daley and Sunday Night NFL on TNT with Pat Haden. He returned to CBS in 1998.
In 2000, Lundquist became the lead play-by-play announcer for the SEC on CBS just as the Bowl Championship Series made college football a truly nationalized sport. He would continue in the SEC on CBS booth until his retirement at the end of the 2016 season. His knack for down-home storytelling made him a fan favorite in college football, prompting the loving moniker "Uncle Verne."
A member of the National Sportscasters and Sportswriters Association Hall of Fame, winner of the 2016 Sports Emmy Award for Lifetime Achievement, and now a Sports Broadcast Hall of Famer, Lundquist has provided the narrative for some of the most unforgettable moments in sports history.
For more information about the AFCA, visit www.AFCA.com. For more interesting articles, check out AFCAInsider.com and subscribe to our weekly email.
If you are interested in more in-depth articles and videos, please become an AFCA member. You can find out more information about membership and specific member benefits on the AFCA Membership Overview page. If you are ready to join, please fill out the AFCA Membership Request Form.
« «
Previous Post
|
Next Post
» »