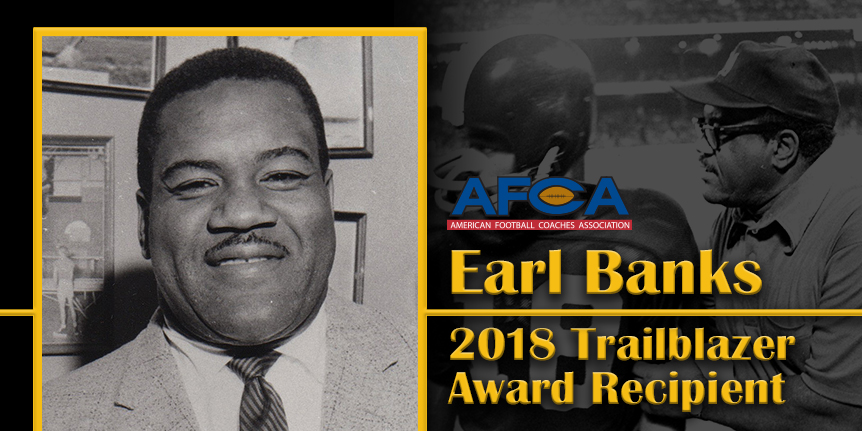 Former Morgan State Head Coach Earl Banks Selected As 2018 Trailblazer Award Recipient
Earl Banks, former head coach at Morgan State University, has been named the American Football Coaches Association's recipient of the 2018 Trailblazer Award. The award will be presented, posthumously, during the AFCA Honors Luncheon on Monday, January 7, at the 2019 AFCA Convention in San Antonio, Texas.
The AFCA Trailblazer Award was created to honor early leaders in the football coaching profession who coached at historically black colleges and universities.
RELATED ARTICLE: Long-Time Auburn Assistant Joe Whitt To Receive 2018 Outstanding Achievement Award
Banks played football for the University of Iowa from 1946 until 1949, and was an All-Big Ten and All-America selection at guard. After graduating from Iowa in 1950, Banks joined the New York Yankees of the old American Football Conference, but an injury cut his professional playing career short after just one season.
In 1951, Banks became the defensive line coach and head baseball coach at Maryland State College. During his time there, he led the baseball team to four Central Intercollegiate Athletic Association (CIAA) championships.
RELATED ARTICLE: Former Buffalo Bills Head Coach Marv Levy To Receive 2019 Amos Alonzo Stagg Award
In 1960, Banks took over the head coaching position at Morgan State from 2011 Trailblazer Award winner, Edward Hurt. In his 14 seasons as head coach, he would lead the Bears to six CIAA titles, one CIAA Northern Division championship and one Mid-Eastern Athletic Conference title. Banks had an overall record of 96-31-2 after he retired from coaching 1973 and produced three undefeated seasons from 1965 through 1967. He guided Morgan State to four bowl games, winning the 1965 Orange Blossom Classic and the 1966 Tangerine Bowl.
Banks sent countless players to the NFL, including Willie Lanier to the Kansas City Chiefs, Leroy Kelly to the Cleveland Browns, George Nock to the Washington Redskins and John Fuqua to the Pittsburgh Steelers, to name a few. But turning out professional players was not Banks main concern. He was quoted as saying, "I want to develop a good citizen, a man who can contribute something and give back to society. I try to treat a player like he is my son. I want him to tell me his troubles. As for the professional angle, if I think he's among the chosen few who can make it, then I try to get him ready for that profession. If he's not, then I stress getting everything he can out of his schooling so he can find a decent job when he graduates. I want him to reach the pinnacle of success in whatever field of endeavor he chooses."
RELATED ARTICLE: Greenwood High School's Rick Jones To Receive 2018 Power Of Influence Award Presented By TeamSnap
From 1970 to 1983, Banks also served as the athletic director at Morgan State. In 1992, he was inducted into the College Football Hall of Fame. In 1993, at the age of 69, Banks was killed in a car crash when he suffered a heart attack and lost control of his car.
Past Trailblazer Award winners include
Charles Williams, Hampton (2004); Cleve Abbott, Tuskegee (2005); Arnett Mumford, Southern (2006); Billy Nicks, Prairie View A&M (2007); Alonzo "Jake" Gaither, Florida A&M (2008); Fred "Pops" Long, Wiley (2009); Harry R. "Big Jeff" Jefferson, Bluefield State (2010); Edward P. Hurt, Morgan State (2011); Vernon "Skip" McCain, Maryland-Eastern Shore (2012); Marino Casem, Alcorn State (2013); Gideon Smith, Hampton (2014); Eddie Robinson, Grambling State (2015); Oree Banks, South Carolina State and West Virginia State (2016) and John Merritt, Jackson State and Tennessee State (2017).
For more information about the AFCA, visit www.AFCA.com. For more interesting articles, check out AFCAInsider.com and subscribe to our weekly email.
If you are interested in more in-depth articles and videos, please become an AFCA member. You can find out more information about membership and specific member benefits on the AFCA Membership Overview page. If you are ready to join, please fill out the AFCA Membership Request Form.
« «
Previous Post
|
Next Post
» »