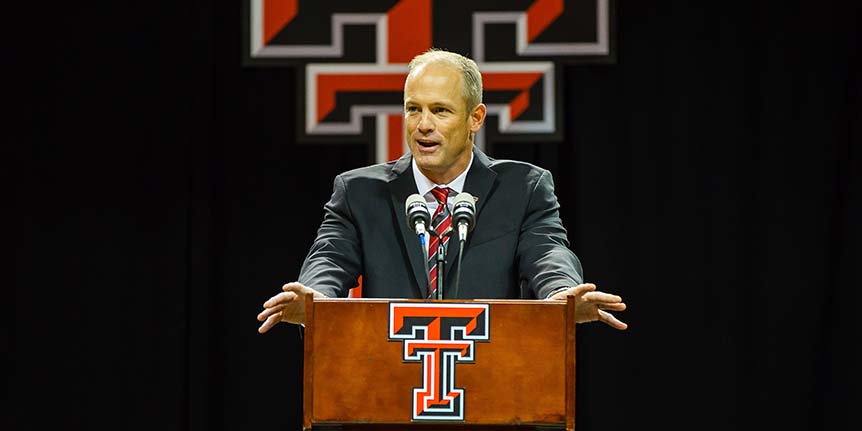 AFCA 2019 Convention: General Session, Matt Wells [PREVIEW]
General Session
Tuesday, January 8 | 9:15-10:15 am
Speaker: Matt Wells, Texas Tech University
The American Football Coaches Association is excited to announce Matt Wells as a featured speaker at the 2019 AFCA Convention in San Antonio, Texas!
Matt Wells recently accepted the head coaching position at Texas Tech University. Wells previously served as the offensive coordinator and then head coach at Utah State University, where he was named the Mountain West Conference Coach of the Year in 2013 and again in 2018.
Wells began his coaching career at the U.S. Naval Academy (1997–2001) where he spent five years as their quarterbacks coach, fullbacks coach and wide receivers coach. From 2002 to 2006, he was tight ends coach and recruiting coordinator at the University of Tulsa.
Additionally, Wells had two coaching stints at the University of New Mexico, serving as the Lobos' wide receivers coach and recruiting coordinator from 2007 to 2008, and wide receivers and kickoff return unit coach in 2010. In 2009, Wells served as the quarterbacks coach and passing game coordinator at the University of Louisville.
For more information about the AFCA, visit www.AFCA.com. For more interesting articles, check out AFCAInsider.com and subscribe to our weekly email.
If you are interested in more in-depth articles and videos, please become an AFCA member. You can find out more information about membership and specific member benefits on the AFCA Membership Overview page. If you are ready to join, please fill out the AFCA Membership Request Form.
« «
Previous Post
|
Next Post
» »