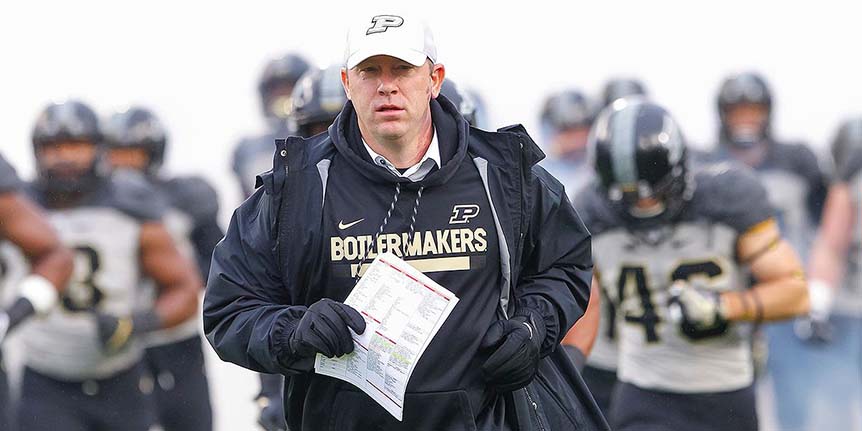 AFCA 2019 Convention: Kickoff Speaker, Jeff Brohm Presented By Sparta Science [PREVIEW]
General Session – Kickoff Speaker
Sunday, January 6 | 5:00-6:00pm
Speaker: Jeff Brohm, Purdue University
The American Football Coaches Association is excited to announce Jeff Brohm as a featured speaker at the 2019 AFCA Convention in San Antonio, Texas!
Jeff Brohm recently completed his second season as the head football coach at Purdue University. Prior to Purdue, Brohm served as the head coach at Western Kentucky University from 2014 to 2016. Brohm has also coached at the University of Louisville, Florida Atlantic University, the University of Illinois, and the University of Alabama at Birmingham. Brohm played collegiate football at Louisville for coach Howard Schnellenberger from 1989 to 1993, he played in the National Football League for seven seasons from 1994 to 2000, and the XFL in 2001.
About our sponsor: Sparta Science is an industry-leading solution for reducing injuries and optimizing performance with validated scientific assessments, enabling coaches to measure and optimize their players' performance, minimize injury risk and safely speed recovery. Sparta Science has been collecting injury data for over a decade, with over 800,000 scans already in their database. Learn more about Sparta Science.
For more information about the AFCA, visit www.AFCA.com. For more interesting articles, check out AFCAInsider.com and subscribe to our weekly email.
If you are interested in more in-depth articles and videos, please become an AFCA member. You can find out more information about membership and specific member benefits on the AFCA Membership Overview page. If you are ready to join, please fill out the AFCA Membership Request Form.
« «
Previous Post
|
Next Post
» »