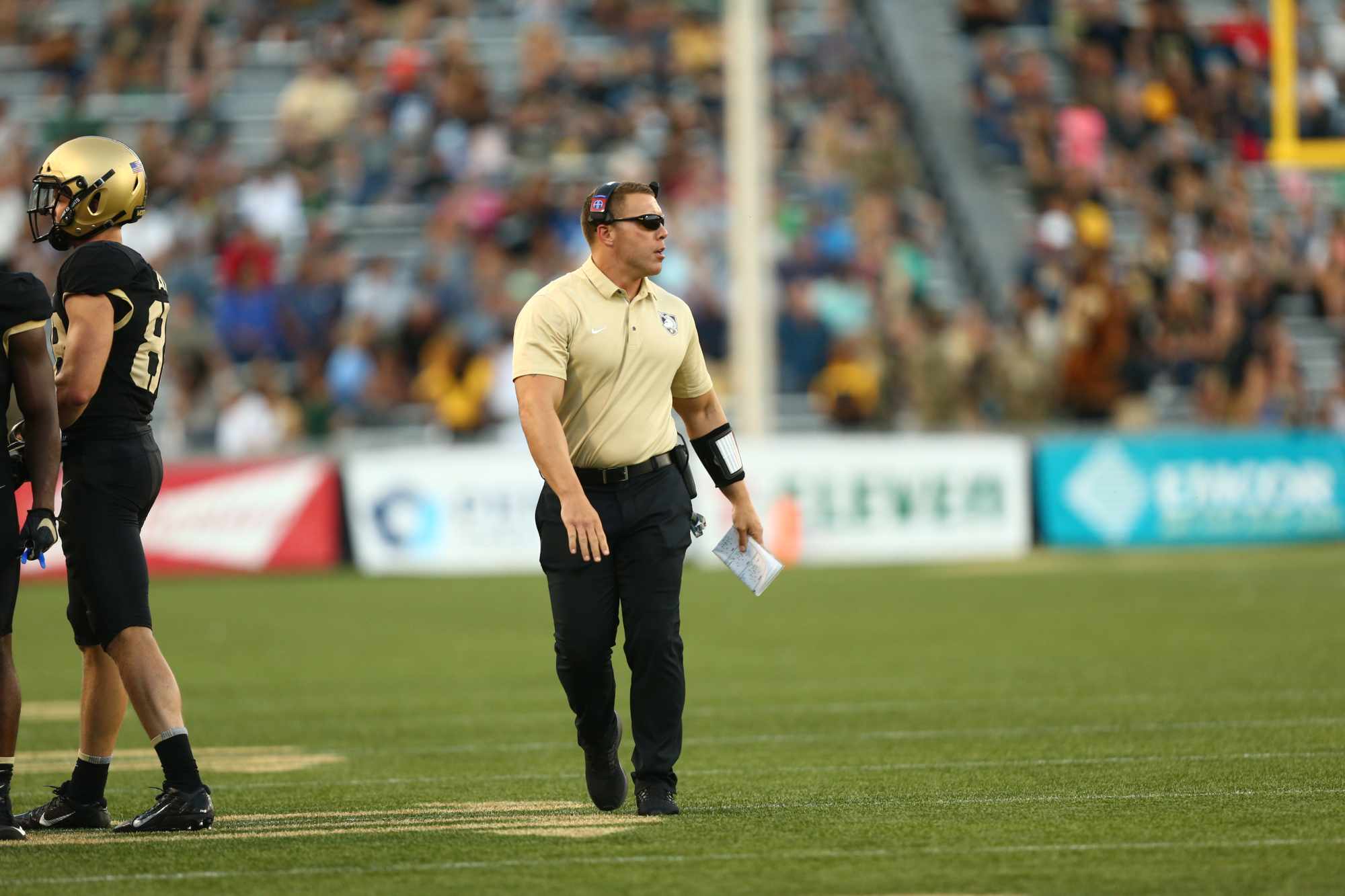 AFCA Announces 2019 Assistant Coach Of The Year Award Winners
The American Football Coaches Association is proud to announce its 2019 Assistant Coach of the Year winners. One assistant coach from the five divisions of college football has been selected for their dedication to their teams and communities. A total of 53 nominees from Football Bowl Subdivision, Football Championship Subdivision, Division II, Division III and NAIA were nominated in 2019.
RELATED ARTICLE: Jerry Brown To Receive AFCA's 2019 Outstanding Achievement Award
Each year, staff representatives from NCAA and NAIA football-playing schools are asked to nominate an assistant for consideration. From those nominations, the winners are selected by the AFCA Assistant Coach of the Year Committee.
The Assistant Coach of the Year award was first presented in 1997 and was created to honor assistant coaches who excel in community service, commitment to the student-athlete, on-field coaching success and AFCA professional organization involvement.
The 2019 honorees are as follows:
FBS–Mike Viti, Fullbacks Coach, Army West Point
FCS–Jason Eck, Offensive Coordinator/Offensive Line Coach, South Dakota State University
Division II–Donnell Leomiti, Defensive Coordinator/Defensive Backs Coach,
Colorado State University-Pueblo
Division III–Luke Cutkomp, Defensive Coordinator/Linebackers Coach, University of Chicago
NAIA–Mike Ridings, Safeties Coach, Marian University
"Once again, five outstanding assistant coaches have been selected for their dedication, not only to their teams, but to their communities," said AFCA Executive Director Todd Berry. "Oftentimes, the head coach receives much of the credit for his team's success, but any head coach is only as good as his assistants. Much of an assistant coach's work is done behind the scenes. It is our pleasure to bring it to the forefront."
The criteria for the award is not limited to on-field coaching ability or the success of the team and the players whom these assistant coaches work with. Service to the community through charitable work and other volunteer activities, participation in AFCA activities and events, participation in other professional organizations and impact on student-athletes are all taken into account in the selection process.
RELATED ARTICLE: Longtime College Head Coach Dick Tomey To Receive 2020 Amos Alonzo Stagg Award
Winners of the Assistant Coach of the Year Award will receive a plaque to commemorate their recognition. They will be honored at the AFCA Honors Luncheon, presented by Amway, held Monday, January 13, during the 2020 AFCA Convention in Nashville, Tennessee.
AFCA Assistant Coach of the Year Finalists for 2019
Football Bowl Subdivision
Mike Viti, Army West Point
Bob Shoop, Mississippi St.
Timothy Albin, Ohio
Football Championship Subdivision
Russ Callaway, Samford
Jason Eck, South Dakota St.
Jeromy McDowell, Southeast Missouri
Division II
Donnell Leomiti, Colorado St.-Pueblo
Nate Shreffler, Hillsdale
Billy Nickel, Lock Haven
Division III
Luke Cutkomp, Chicago
Matt Kreider, Kean
Nick Davis, Rose-Hulman
NAIA
Fran Johnson, Benedictine (Kan.)
Mike Ridings, Marian
Casey Jacobsen, Morningside
Assistant Coach of the Year Notes
114 assistant coaches from 88 different schools have been honored by the AFCA since the inception of the award in 1997 … Bethel (Minn.) joins Campbellsville, Carson-Newman and Hampton as schools with three winners each … Duke, Johns Hopkins and Lindsey Wilson join Air Force, Benedictine (Kan.), Carroll (Mont.), Central (Iowa), Clemson, Morningside, Mount Union, Northwest Missouri State, Tabor, Wabash, Washington (Mo.) and Winona State with two winners each.
The Winners
Football Bowl Subdivision
Mike Viti, Fullbacks Coach, Army West Point: Viti is in his fourth season as a college coach, all at Army … Co-founder of the Legacies Alive Foundation, which is a non-profit organization whose mission is to strengthen and support the Gold Star families of our nation's fallen heroes and brings national awareness to the life and character of all service members who paid the ultimate sacrifice … Embarked on a Mike's Hike For Heroes in 2014, a cross country trek where he walked one kilometer for every service member killed in action in the global war on terror. He walked 4,400 miles, from Washington to the Army-Navy game in Baltimore, Maryland … Named the 2019 Armed Forces Merit Award recipient … Active on many boards and committees such as Unique Professional, Windy25, America's Mighty Warriors, Parker County Gold Star Families and Chris Moon Memorial to name a few … Has tutored fullbacks who have helped Army capture the Commander in Chief's Trophy in 2017 and 2018 and currently sit No. 12 in FBS in rushing yards per game in 2019.
Football Championship Subdivision
Jason Eck, Offensive Coordinator/Offensive Line Coach, South Dakota State: Eck has spent four years at South Dakota State and 20 in college coaching … An active member of the AFCA, he has served for several years on the Awards-General Session Committee and has been a presenter at the AFCA annual convention … Head's up South Dakota State Football's "Get in the Game" Bone Marrow Donor Registry Drive through the Be the Match and the Andy Talley Bone Marrow Foundation … Also in charge of the football program's visits to local schools … Has been a part of 30 wins at South Dakota State, including a school-record 11 in 2017 … Helped the Jackrabbit offense lead the nation in yards per play in 2018 … In his first season as offensive coordinator, SDSU averages 422 yards per game in total offense and is ranked No. 12 in FCS in rushing yards per game at 234.4.
Division II
Donnell Leomiti, Defensive Coordinator/Defensive Backs Coach, Colorado State-Pueblo: Leomiti has been a college coach for 14 years, the last 12 at CSU-Pueblo … Actively volunteers with the YMCA, Special Olympics, the United Way and several other mentoring programs … He speaks at various organizations about his battle with pancreatic cancer … Active in other organizations throughout the year such as the Fellowship of Christian Athletes, Young Life and the Praise Assembly Church … Named the Football Scoop Defensive Coordinator of the Year in 2018, he has led Colorado State-Pueblo to one of the best defenses in the country … In 2019, the Pack defense is ranked No. 6 in rushing yards allowed and No. 30 total defense in Division II.
Division III
Luke Cutkomp, Defensive Coordinator/Linebackers Coach, Chicago: Cutkomp has spent 17 years coaching college football, with the last six at Chicago … Is the outreach liaison for Chicago athletics who supervises numerous community outreach programs for student-athletes … Established a community service "draft" where players are drafted into teams and their teams earn points for the volume of service to others … Has coordinated the Chicago Go4theGoal, Lace Up For Pediatric Cancer Awareness initiative and is involved in supervising an after-school program where Chicago athletes teach a weekly physical education class to 25 first grade students at Ray Elementary … Also guides players in Project Rousseau, helping mentoring kids at Kenwood Academy … Helps coordinate Chicago's on-campus ambassador's program for Team Impact, which puts chronically ill children into university sports programs for a positive life experience. In 2018, he coordinated a visit for the Arnold family (Leon, Honoree) for pregame festivities and ceremonial coin flip … Other initiatives he helps coordinate are St. Baldrick's Foundation, Ronald McDonald House, Special Olympics, Oklahoma Cleats for Kids Foundation, tutoring at Educare Chicago and Polar Plunge … Also lead's the football staff's participation in the Coach to Cure MD program … Helped two players be named to the Allstate AFCA Good Works Team … Has tutored 30 All-Conference selections, four All-Region selections, five All-Americans and one conference defensive player of the year while at Chicago.
NAIA
Mike Ridings, Safeties Coach, Marian: Ridings is in his fourth season at Marian … Heads the community service efforts at Marian that saw student-athletes record more than 700 hours of community service during the 2019 spring semester … Serves meals to families experiencing long stays in the hospital with St. Vincent House … Leads players in the Read Across America program at several local Indianapolis schools … Works at the Flanner House, helping with gardening … Helps mentor at two Boys and Girls Clubs in Indianapolis … Instrumental in Marian's affiliation with Team Impact and their current Team Impact member, Jackson, who is six years old and battling leukemia … Organizes a free football camp for nearly 50 1st-5th grade students … Participated in the AFCA's 30 Under 30 program in 2016 … Active member in USA Football by helping run regional combines and camps … Has helped the Marian defense rank No. 1 in the country in total defense in 2016, 2018 and 2019.
For more information about the AFCA, visit www.AFCA.com. For more interesting articles, check out AFCAInsider.com and subscribe to our weekly email.
If you are interested in more in-depth articles and videos, please become an AFCA member. You can find out more information about membership and specific member benefits on the AFCA Membership Overview page. If you are ready to join, please fill out the AFCA Membership Request Form.
« «
Previous Post
|
Next Post
» »