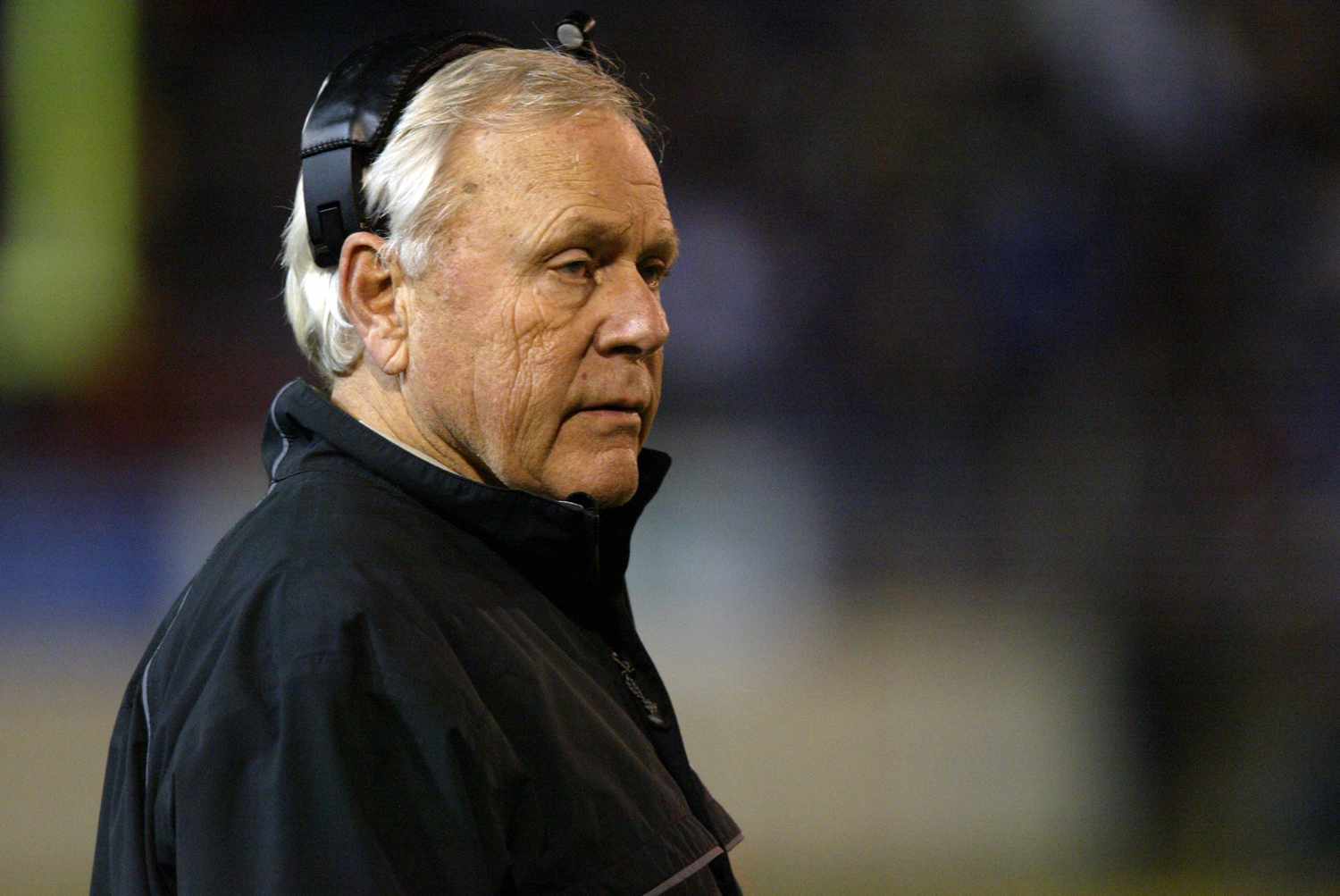 Longtime College Head Coach Dick Tomey To Receive 2020 Amos Alonzo Stagg Award
Former University of Arizona, University of Hawaii, and San Jose State University head coach Dick Tomey will receive the AFCA's 2020 Amos Alonzo Stagg Award. The award is given to those "whose services have been outstanding in the advancement of the best interests in football," and will be presented, posthumously, during the 2020 AFCA Convention in Nashville, Tennessee.
Tomey passed away in May of 2019 at the age of 80, after a battle with lung cancer. He spent 29 seasons as a head coach and compiled a record of 183-145-7, and also served as AFCA president in 2009.
Tomey attended DePauw University where he graduated 1960. He played catcher for the Tigers and lettered three times from 1957-1959. He would get his first coaching job in 1962 at Miami (Ohio) University, as a graduate assistant and freshman coach under the tutelage of Bo Schembechler and John Pont.
In 1964, Tomey would become the freshman coach at Northern Illinois University where he would stay for one season before moving on to Davidson University to become the defensive backs coach from 1965-1966. He moved on to the University of Kansas to coach defensive backs for the Jayhawks from 1967-1970, under Pepper Rodgers.
RELATED ARTICLE: Jerry Brown To Receive AFCA's 2019 Outstanding Achievement Award
When Rodgers left Kansas for UCLA in 1971, Tomey followed him to the west coast. Tomey remained the defensive backs coach for the Bruins, but also added duties as offensive line coach. Tomey was promoted to assistant coach and defensive coordinator in 1976 under new head coach Terry Donahue. The duo led the Bruins to a 23-10 victory over Ohio State in the 1976 Rose Bowl.
The success at UCLA opened the door for Tomey to earn his first head-coaching job with the University of Hawaii in 1977. During the 1981 season, Tomey was named Western Athletic Conference Coach of the Year, after leading the Rainbow Warriors to a 9-2 record. The 1981 season was also the first time Hawaii was ranked in the Associated Press Top 20 poll. Hawaii cracked the top 20 during week 10 coming in at No. 19 with a 7-0 record.
In 1987, Tomey came back to the mainland and became the head coach for the University of Arizona. Tomey established his legacy in the desert and went on to become the programs all-time wins leader with a 95-64-4 record that spanned over 14 seasons. He was named Pac-10 Coach of the Year in 1992, and his Wildcats played in 7 bowl games, of which 4 were victories.
During the 1994 Fiesta Bowl, Tomey's Wildcats shocked the world as they shutout powerhouse Miami (Fla.), 29-0. The victory was the first shutout over a Hurricane team in 168 games dating back to their 30-0 loss to Alabama in 1979. Tomey was known as the creator of the "Desert Swarm" defense, which was led by the dynamic duo of Teddy Bruschi and Rod Waldrop and was featured on the cover of Sports Illustrated in 1994.
After a brief hiatus, Tomey returned to the game of football in 2003 as an assistant defensive coach for the San Francisco 49ers. He would return to the college ranks in 2004 as the assistant head coach and defensive ends coach for the University of Texas.
With the itch still alive and well, Tomey took his final head-coaching job in 2005 with San Jose State University. He led the Spartans to their first winning record in six years in 2006. The Spartans finished 9-4, their best win total since 1990, and defeated the New Mexico Lobos 20-12 in the New Mexico Bowl.
Tomey ended his coaching career after the 2011 season, spending that year with Hawaii as their special teams coach. He served as an associate athletic director at South Florida from 2015-16.
Tomey served on the AFCA Board of Trustees for 10 years during two different stints. He was on the board from 1996 to 2000 while serving as head coach at Arizona, then from 2005 to 2009 while serving as head coach at San Jose State. Tomey earned AFCA Regional Coach of the Year honors in 1992. 
The Award
The Amos Alonzo Stagg Award is given to the "individual, group or institution whose services have been outstanding in the advancement of the best interests of football." Its purpose is "to perpetuate the example and influence of Amos Alonzo Stagg."
The award is named in honor of a man who was instrumental in founding the AFCA in the 1920s. He is considered one of the great innovators and motivating forces in the early development of the game of football. The plaque given to each recipient is a replica of the one given to Stagg at the 1939 AFCA Convention in tribute to his 50 years of service to football.
Amos Alonzo Stagg
Amos Alonzo Stagg began his coaching career at the School of Christian Workers, now Springfield (Mass.) College, after graduating from Yale University in 1888.
Stagg also served as head coach at Chicago (1892-1932) and College of the Pacific (1933-1946). His 41 seasons at Chicago is one of the longest head coaching tenures in the history of the college game.
Among the innovations credited to Stagg are the tackling dummy, the huddle, the reverse play, man in motion, knit pants, numbering plays and players, and the awarding of letters.
A long-time AFCA member, Stagg was the Association's 1943 Coach of the Year.
According to NCAA records, Stagg's 57-year record as a college head coach is 314-199-35. He was 84 years old when he ended his coaching career at Pacific in 1946. He died in 1965 at the age of 103.
Past Amos Alonzo Stagg Award Winners
1940   Donald Herring, Jr., (Princeton player) and family
1941   William H. Cowell (posthumously), New Hampshire
1946   Grantland Rice, sportswriter
1947   William A. Alexander, Georgia Tech
1948   Gilmour Dobie, North Dakota State, Washington, Navy, Cornell, Boston College
Glenn S. "Pop" Warner, Georgia, Cornell, Carlisle, Pittsburgh, Stanford, Temple
Robert C. Zuppke, Illinois
1949   Richard C. Harlow, Penn State, Colgate, Western Maryland, Harvard
1950   No award given
1951   DeOrmond "Tuss" McLaughry, Westminster, Amherst, Brown, Dartmouth
1952   A.N. "Bo" McMillin, Indiana
1953   Lou Little, Georgetown, Columbia
1954   Dana X. Bible, Mississippi College, LSU, Texas A&M, Nebraska, Texas
1955   Joseph J. Tomlin, founder, Pop Warner Football
1956   No award given
1957   Gen. Robert R. Neyland, Tennessee
1958   Bernie Bierman, Mississippi A&M, Tulane, Minnesota
1959   Dr. John W. Wilce, Ohio State
1960   Harvey J. Harman, Haverford, University of the South, Pennsylvania, Rutgers
1961   Ray Eliot, Illinois
1962   E.E. "Tad" Wieman, Michigan, Princeton, Maine
1963   Andrew Kerr, Stanford, Washington & Jefferson, Colgate, Lebanon Valley
1964   Don Faurot, Missouri
1965   Harry Stuhldreher, Wisconsin
1966   Bernie H. Moore, LSU
1967   Jess Neely, Southwestern, Clemson, Rice
1968   Abe Martin, TCU
1969   Charles A. "Rip" Engle, Brown, Penn State
1970   Lynn "Pappy" Waldorf, Syracuse, Oklahoma City, Kansas, Oklahoma A&M, Kansas State, Northwestern, California
1971   Bill Murray, Delaware, Duke
1972   Jack Curtice, Stanford
1973   Lloyd Jordan, Amherst, Harvard
1974   Alonzo S. "Jake" Gaither, Florida A&M
1975   Gerald B. Zornow, business executive
1976   No award given
1977   Floyd "Ben" Schwartzwalder, Muhlenberg, Syracuse
1978   Tom Hamilton, Navy, Pittsburgh
1979   H.O. "Fritz" Crisler, Minnesota, Princeton, Michigan
1980   No award given
1981   Fred Russell, sportswriter
1982   Eddie Robinson, Grambling
1983   Paul W. "Bear" Bryant, Maryland, Kentucky, Texas A&M, Alabama
1984   Charles B. "Bud" Wilkinson, Oklahoma
1985   Duffy Daugherty, Michigan State
1986   Woody Hayes, Denison, Miami (Ohio), Ohio State
1987   Field Scovell, Cotton Bowl
1988   G. Herbert McCracken, Allegheny, Lafayette
1989   David Nelson, Delaware
1990   Len Casanova, Oregon
1991   Bob Blackman, Denver, Dartmouth, Illinois, Cornell
1992   Charles McClendon, LSU
1993   Keith Jackson, ABC-TV
1994   Bob Devaney, Nebraska, Wyoming
1995   John Merritt, Jackson State, Tennessee State
1996   Chuck Neinas, College Football Association
1997   Ara Parseghian, Miami (Ohio), Northwestern, Notre Dame
1998   Bob Reade, Augustana (Ill.)
1999   Bo Schembechler, Miami (Ohio), Michigan
2000   Tom Osborne, Nebraska
2001   Vince Dooley, Georgia
2002   Joe Paterno, Penn State
2003   LaVell Edwards, Brigham Young
2004   Ron Schipper, Central (Iowa)
2005   Hayden Fry, North Texas, SMU, Iowa
2006   Grant Teaff, McMurry, Angelo State, Baylor
2007   Bill Curry, Georgia Tech, Alabama, Kentucky
2008   Bill Walsh, San Francisco 49ers, Stanford
2009   John Gagliardi, Carroll (Mont.), St. John's (Minn.)
2010   Darrell Royal, Mississippi State, Washington, Texas
2011   Bobby Bowden, Samford, West Virginia, Florida State
2012   Fisher DeBerry, Air Force
2013   Frosty Westering, Parsons, Lea College, Pacific Lutheran
2014   R.C. Slocum, Texas A&M
2015   Ken Hatfield, Air Force, Arkansas, Clemson, Rice
2016   John Cooper, Tulsa, Arizona State, Ohio State
2017   Don Nehlen, Bowling Green, West Virginia
2018    Frank Broyles, Missouri, Arkansas
2019   Marv Levy, Buffalo Bills
For more information about the AFCA, visit www.AFCA.com. For more interesting articles, check out AFCAInsider.com and subscribe to our weekly email.
If you are interested in more in-depth articles and videos, please become an AFCA member. You can find out more information about membership and specific member benefits on the AFCA Membership Overview page. If you are ready to join, please fill out the AFCA Membership Request Form.
« «
Previous Post
|
Next Post
» »