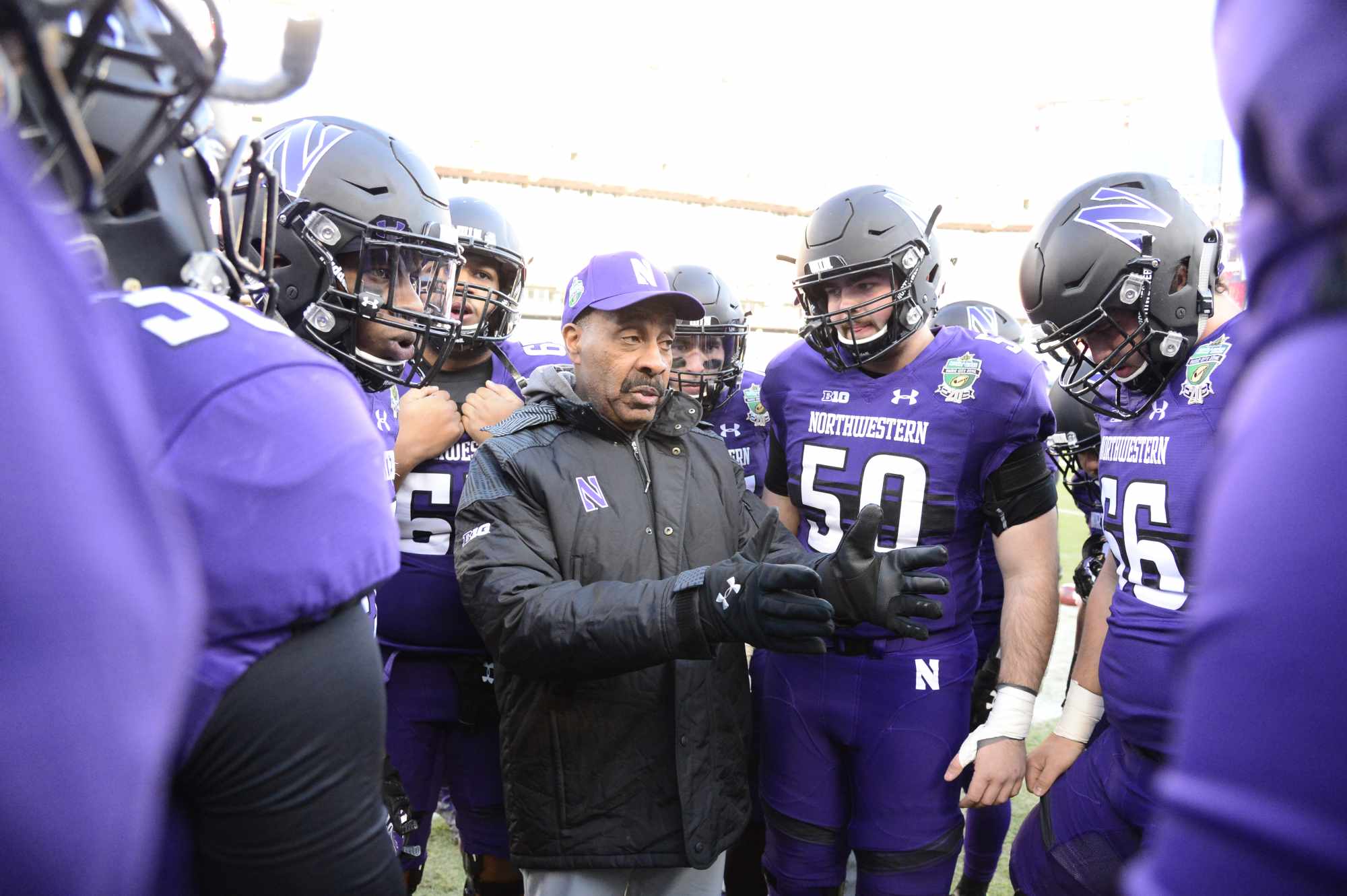 Jerry Brown To Receive AFCA's 2019 Outstanding Achievement Award
After 24 years of service at Northwestern University, the dean of the Wildcat coaching staff, Jerry Brown, will now have another title to his name. Brown was selected as the recipient of the 2019 AFCA Outstanding Achievement Award. The AFCA Board of Trustees created the Outstanding Achievement Award in order to recognize AFCA members, past and present, who have achieved outstanding success while coaching football.
RELATED ARTICLE: Longtime College Head Coach Dick Tomey To Receive 2020 Amos Alonzo Stagg Award
Brown was a three-year letter winner at Northwestern, with his first two seasons spent a wide receiver while his senior year was spent at defensive back. He set the then-school record with 12 pass breakups, which helped him get selected by the San Francisco 49ers in the 1972 NFL draft. Brown decided coaching was the way to go and began his coaching career as a graduate assistant for his alma later that same year.
For his next coaching stop, Brown returned to his high school alma mater in 1973, serving at Roosevelt High School in Kent, Ohio, for five years. He returned to the college ranks as a defensive backs coach at Eastern Illinois from 1977-79, then coached for eight seasons at Cal State Fullerton, where he spent time as receivers coach and offensive coordinator for the Titans.
Brown made the jump to the NFL in 1988, where he coached receivers and defensive backs with the Minnesota Vikings until 1991. His defensive backs held opponents to the lowest passing yardage in the NFC in 1990. When the opportunity presented itself in 1993, Brown headed back home to Evanston, Illinois, to roam the sidelines for the Wildcats.
Throughout his 24 years, Brown put together a solid resume at Northwestern. His Wildcats' secondary led the country in scoring defense in 1995 and three of his defensive backs earned All-Big Ten honors. During the 2008 season, Brown's secondary raked 25th in the nation is pass efficiency defense. During the 2009 season, the Wildcats' secondary made life miserable for opposing offenses. The Wildcats finished with 17 interceptions on the season and ranked 16th overall in the nation.
RELATED ARTICLE: Long-Time Auburn Assistant Joe Whitt To Receive 2018 Outstanding Achievement Award
Brown was named assistant head coach and defensive backs coach in 2002 after serving as defensive coordinator for Northwestern from 1999 to 2001.
Throughout his tenor at Northwestern as a player and coach, Brown has helped contribute to 11 of the 14 bowl appearances for the Wildcats and has been a part of 30 percent of the school's all-time victories. He retired from coaching after Northwestern's 24-23 victory over Kentucky in the Music City Bowl in 2016.
Past Outstanding Achievement Award winners include: Tim Marcum, Tampa Bay Storm (2003); Joe Moore, Pittsburgh, Temple, Notre Dame (2005); Homer Smith, Davidson, Pacific, Army (2006); Ted Kempski, Delaware (2007); Ken Donahue, Alabama, Tennessee, Memphis, Mississippi State (2008); Roland Christensen, Wisconsin-La Crosse, Winona State (2009); Bill Hickey, Notre Dame, Coast Guard, Swarthmore, Princeton (2012); Joe Kines, Jacksonville State, Clemson, Florida, Alabama, Tampa Bay Buccaneers, Arkansas, Georgia, Florida State, Texas A&M (2013); Woody McCorvey, South Carolina, Tennessee, Alabama, Mississippi State, Clemson (2014); Mike Terwilliger, East Stroudsburg (2015); Randy Hart, Tampa, Iowa State, Purdue, Ohio State, Washington, Notre Dame, Stanford (2016); George Belu, Marshall, Denison, Miami (Ohio), Colorado, NC State, LSU, Indiana, Wake Forest, Ohio State, Arizona Cardinals, Ohio Dominican (2017) and Joe Whitt, Sr., Auburn (2018).
For more information about the AFCA, visit www.AFCA.com. For more interesting articles, check out AFCAInsider.com and subscribe to our weekly email.
If you are interested in more in-depth articles and videos, please become an AFCA member. You can find out more information about membership and specific member benefits on the AFCA Membership Overview page. If you are ready to join, please fill out the AFCA Membership Request Form.
« «
Previous Post
|
Next Post
» »