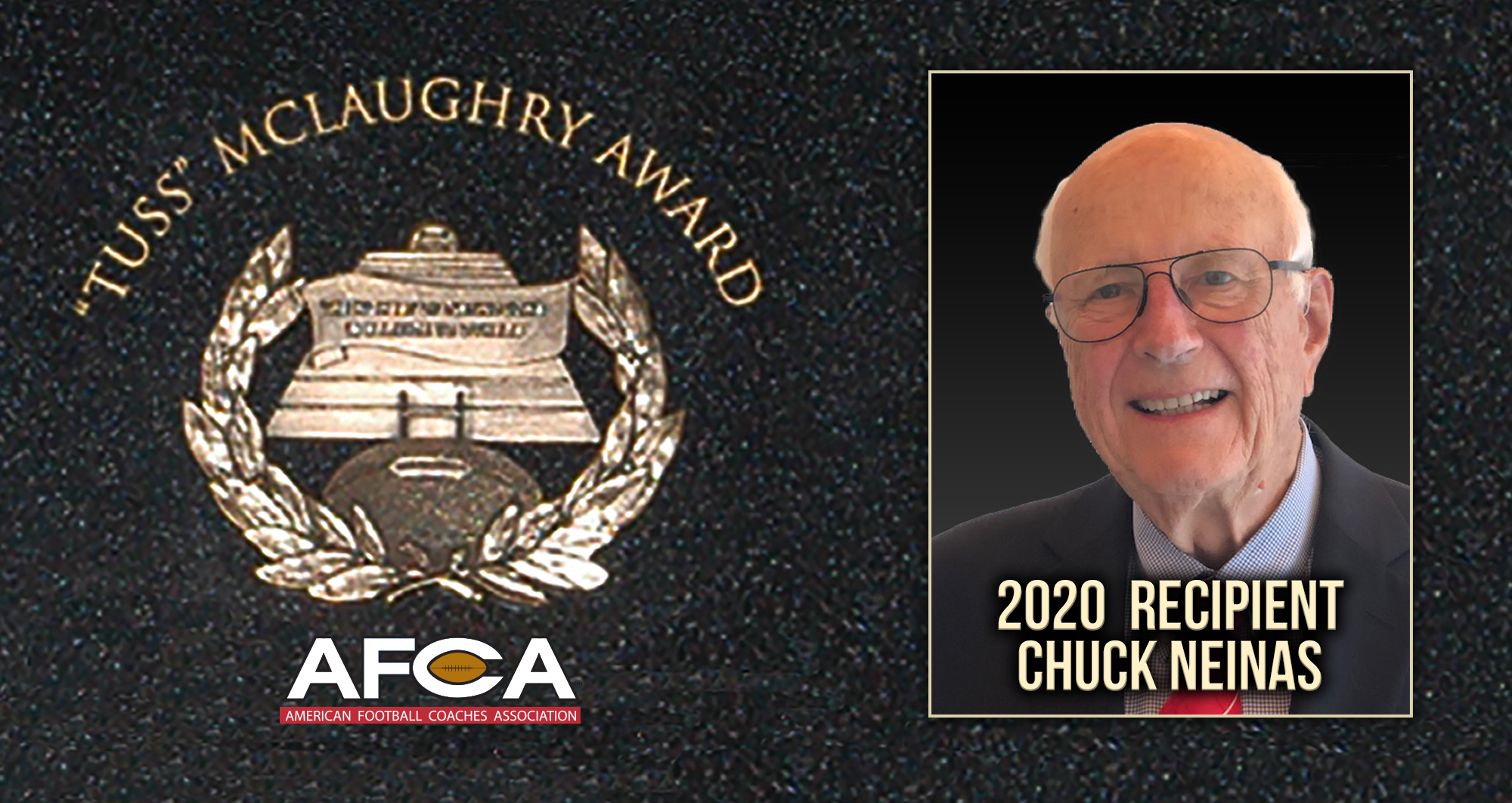 Chuck Neinas To Receive The AFCA's 2020 McLaughry Award
Former executive director of the College Football Association (CFA) and president of Neinas Sports Services, Chuck Neinas has been selected as the 2020 recipient of the AFCA's highest honor, the Tuss McLaughry Award. Neinas will receive the award during the 2020 AFCA Convention in Nashville, Tennessee.
Early in his career, Neinas served as assistant executive director of the NCAA from 1961-1971. Throughout the decade, he was supervisor of NCAA Championships, with direct responsibility over the College World Series and the NCAA Basketball Championship. Neinas was also the NCAA Congressional liaison, and he was responsible for financial and business affairs in his role as secretary to the NCAA Council and Executive Committee.
RELATED ARTICLE: Clemson's Dabo Swinney & 22 College Football Players & Named to the 2019 Allstate AFCA Good Works Team
Neinas was named commissioner of the Big Eight Conference in 1971, where he served until 1980. While in this role, Neinas paved the way for modern commissioners with his focus on improving the communication between coaches, directors, faculty and presidents. The success he had led to him being selected to become a member of the United States Olympic Committee Board of Directors, where he served for eight years.
From 1976-1980, Neinas was chairman of the Olympic Basketball Committee and he served on the initial United States Olympic Development Committee. One of his greatest accomplishments came in 1978, as he chaired the NCAA Olympic and International Relations Committee. The committee recommended that the NCAA withdraw from the USOC, which led to a reorganization of the USOC and adoption of the Amateur Sports Act of 1978.
RELATED ARTICLE: Jerry Brown To Receive AFCA's 2019 Outstanding Achievement Award
As executive director of the College Football Association from 1980-1997, Neinas changed the landscape of college athletics. Instead of working as separate entities, Neinas felt like more could get accomplished if chief executive officers, athletic directors, faculty and football coaches worked together on important issues. Neinas assumed the responsibilities for promoting CFA sponsored NCAA legislation.
The newfound approach to handling important issues as a team led to the development of the continuing eligibility rule requiring progress towards a degree, elimination of alumni and boosters from the recruiting process, improvement of academic standards and the establishment of more reasonable and enforceable NCAA rules, including a recruiting calendar.
Conference and individual program television channels, such as the SEC Network and The Longhorn Network, wouldn't exist without the work of Neinas. The CFA was instrumental in challenging NCAA control of college football on television that resulted in a Supreme Court decision in 1984 which opened up the marketplace for college football telecast. From 1984-1995, Neinas negotiated countless television contracts and administered television plans for members of the CFA. These contracts included deals with ESPN, CBS, NBC and ABC.
RELATED ARTICLE: Longtime College Head Coach Dick Tomey To Receive 2020 Amos Alonzo Stagg Award
From 1999 to 2000, Neinas was chairman of the board and acting chief executive officer of Ascent Entertainment Group. He helped negotiate the sale of the Ascent Entertainment Group to Liberty Media Group for $750 million in 2000. Ascent owned the Denver Nuggets, Colorado Avalanche and the Pepsi Center Arena.
During 2011, Neinas became interim commissioner of the Big 12 Conference after the departure of Dan Beebe. He solidified the conference, added two new members, helped create a post-season bowl and initiated negotiations that resulted in a 2.6 billion dollar television contract.
RELATED ARTICLE: Former Winston-Salem State And North Carolina A&T Head Coach Bill Hayes Selected As The 2019 AFCA Trailblazer Award Recipient
Neinas' last job was president of Neinas Sports Services, which provided consulting services in a wide variety of sports. The company's area of specialty was finding personal placement, organization and management within intercollegiate athletics.
The McLaughry award is the second AFCA award that Neinas will receive. In 1996, Neinas was the recipient of the Amos Alonzo Stagg Award. He received the James J. Corbett Memorial Award, the highest award presented by the National Association of Collegiate Directors of Athletics, in 1999, and was additionally honored with an award from the National Football Foundation for his outstanding contribution to amateur football.
The Award
The Tuss McLaughry Award is given to a distinguished American (or Americans) for the highest distinction in service to others. It is named in honor of DeOrmond "Tuss" McLaughry, the first full-time secretary-treasurer of the AFCA and one of the most dedicated and influential members in the history of the Association. The award was established in 1964.
Tuss McLaughry
Tuss McLaughry began his coaching career at his alma mater, Westminster (Pa.) College in 1916. During his early days in coaching, McLaughry spent his spare time playing pro football with the Massillon (Ohio) Tigers. Knute Rockne was a teammate. He went on to become head coach at Amherst (1922-25), Brown (1926-40), and Dartmouth (1941-55). His most successful years were at Brown, where he had a 15-year record of 76-58-5. In 1926, McLaughry produced Brown's only undefeated team. Two of his other teams at Brown had only one loss.
McLaughry retired from coaching in 1954, but continued in his capacity as chairman of the Physical Education Department at Dartmouth until 1960, when he accepted the appointment with the AFCA. He retired from that position in 1965.
McLaughry played a leading role in the development of the AFCA while at the same time establishing a reputation as a successful head coach at some of the most prestigious schools in the East. He worked diligently throughout his lifetime to advance the best interests of the football coaching profession.
Past Tuss McLaughry Award Winners
1964 Gen. Douglas MacArthur, armed forces
1965 Bob Hope, entertainer
1966 Lyndon B. Johnson, U.S. President
1967 Dwight D. Eisenhower, U.S. President
1968 J. Edgar Hoover, director, FBI
1969 The Reverend Billy Graham, evangelist
1970 Richard M. Nixon, U.S. President
1971 Edwin Aldrin, Neil Armstrong, Michael Collins, Apollo 11 astronauts
1974 John Wayne, actor
1975 Gerald R. Ford, U.S. President
1977 Gen. James A. Van Fleet, armed forces
1979 Jimmy Stewart, actor
1980 Lt. Gen. Jimmy Doolittle, armed forces
1981 Dr. Jerome Holland, educator, business executive
1982 Robert Crippen & John Young, astronauts
1983 Ronald Reagan, U.S. President
1985 Pete Rozelle, NFL Commissioner
1986 Gen. Pete Dawkins, armed forces
1987 Gen. Chuck Yeager, armed forces
1988 Lindsey Nelson, sportscaster
1989 George Shultz, U.S. Secretary of State
1990 Burt Reynolds, actor
1993  Tom Landry, Head Coach, Dallas Cowboys
1994  Charley Boswell, armed forces
1996  Eddie Robinson, Head Coach, Grambling St.
1998  George Bush, U.S. President
2001  Andrew Young, United Nations Ambassador
2002  Roger Staubach, businessman, NFL Hall of Famer
2003  Stephen Ambrose, Author and historian
2004  Gen. Tommy Franks, armed forces
2005  Dr. Christopher Kraft, NASA
2007  Paul Tagliabue, NFL Commissioner
2008  Tom Osborne, Head Coach, Nebraska
2009  Rudy Giuliani, former mayor, New York City
2010  Tony Dungy, Head Coach, Indianapolis Colts
2013  Robert Mueller, Director, FBI
2014  Jeffrey Immelt, CEO, General Electric
2016  William McRaven, Chancellor, University of Texas System
2017  Grant Teaff, AFCA Executive Director, Head Coach
2018  Jack Lengyel, Head Coach and Athletic Administrator
2019  Verne Lundquist, Sports Broadcaster
For more information about the AFCA, visit www.AFCA.com. For more interesting articles, check out AFCAInsider.com and subscribe to our weekly email.
If you are interested in more in-depth articles and videos, please become an AFCA member. You can find out more information about membership and specific member benefits on the AFCA Membership Overview page. If you are ready to join, please fill out the AFCA Membership Request Form.
« «
Previous Post
|
Next Post
» »