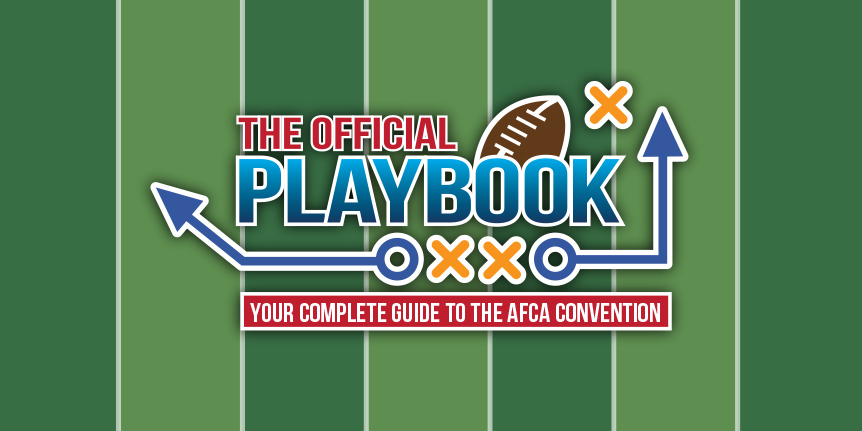 The PlayBook: A Guide To The 2019 AFCA Convention
It's almost time for the 2019 AFCA Convention, and as you make your final preparations, here's your Playbook to get the most out of your visit to San Antonio! For the most up to date schedule and info, please download the AFCA Mobile App.
Click Here For Apple Mobile App
Click Here For Android Mobile App
Sunday – January 6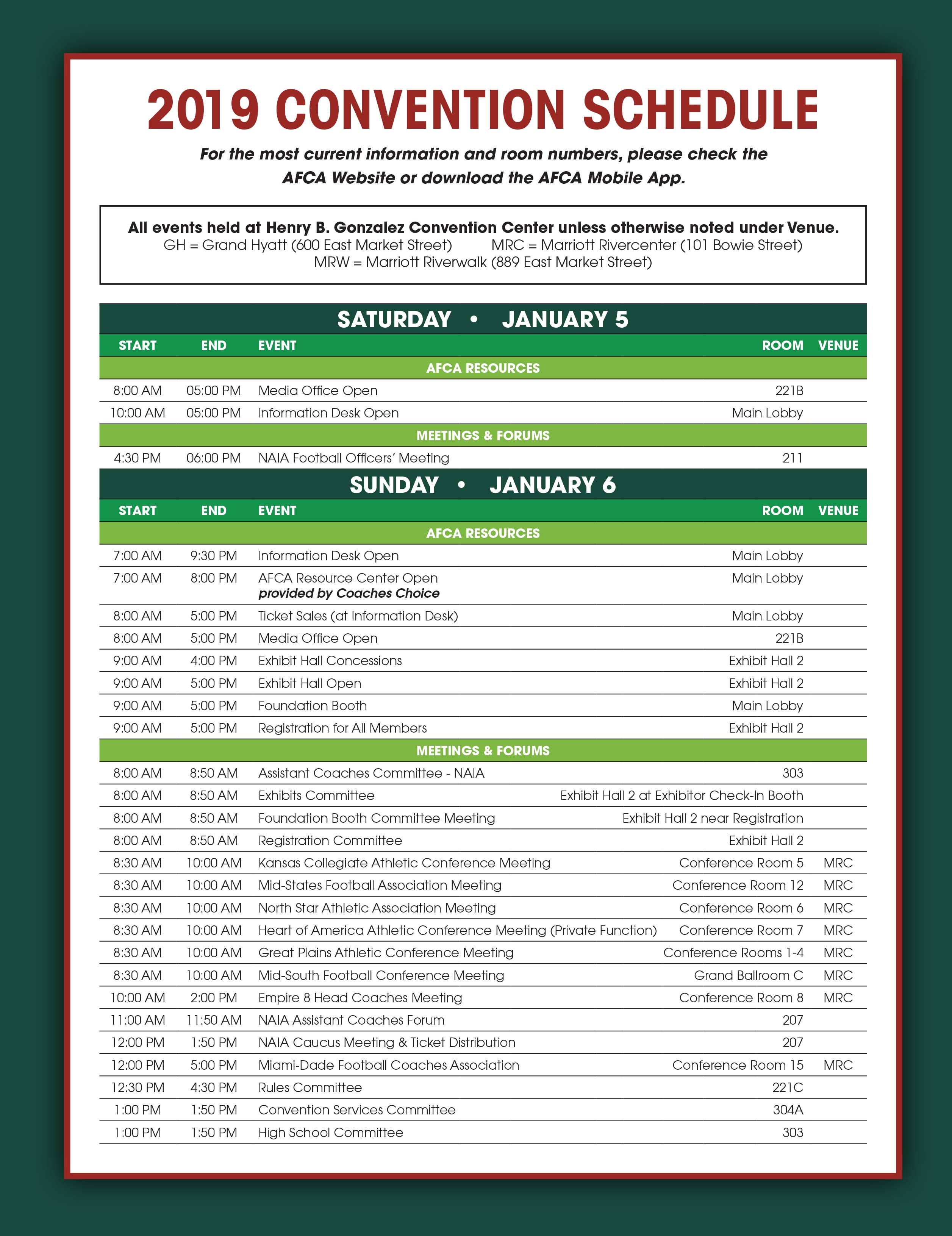 Getting Started
This year's AFCA Convention will be held at the Henry B. Gonzalez Convention Center, and the Exhibit Hall will open at 9 AM. Be sure to make Registration your first stop since AFCA badges are required for all the events you want to attend. This is also a chance to buy a ticket for the Honors Luncheon. (Don't worry, if you decide to attend the Luncheon after you register, just swing by the Information Desk.)
If you pre-paid your membership dues and/or your Convention fee, there are three possible Quick Pass routes to print your badge quickly and efficiently.
Route One:  Quick Pass Entrance – Proceed to the Quick Pass Entrance and follow through to a computer terminal.  Next, enter your Quick Pass ID Information, follow the instructions and print your badge.
Route Two:  Mobile Entrance with Convention App – Proceed to the Mobile Registration Entrance and print your badge using your mobile phone.  Mobile apps will be available in the Apple Store and Android Store near the 4th of January.  You must be in the Mobile Registration Entrance area and use the Location Code found in the Mobile area to print your badge.
Route Three:  Mobile Entrance using Phone Web Browser – The AFCA Member dashboard can be used to print your badge using the same Mobile Registration Entrance and same location code as Route Two.  Just login to the dashboard using your phone's web browser and enter the location code in the registration area, and Print your badge within the webpage.
The best way to edit your badge is the AFCA Terminal and the AFCA Mobile App.
If you have not paid your membership dues and/or your Convention fee, you must now register on-site at the Convention. Look for Division-specific queues (FBS, FCS, DII, DIII, NAIA/JUCO, and HS). If you actively coached during the 2018 season, you will register according to the division of your school. If you actively coached during the 2018 season, but are currently between schools, you will register according to the division of your most recent school. If you did not actively coach during the 2018 season, you will register through the line marked "Other".
Check out the Foundation Booth in the Main Lobby. The AFCF is dedicated to furthering your education and supporting football coaches around the globe.
You're going to want to spend plenty of time checking out the AFCA Exhibit Hall floor (open 9 AM-5 PM on Sunday and Monday, and 9AM-Noon on Tuesday). There will be over 200 exhibitors on display, coaches teaching on the AFCA Skills & Drills Field, and the Inside the Headset podcast team will be recording live interviews.
Skills & Drills presented by VICIS: 9:30 AM-5 PM in the Exhibit Hall
After making its debut at the 2018 AFCA Convention, this has quickly become something you don't want to miss! This is a chance to watch some of the premiere coaches in the game teach position-specific drills with actual athletes performing live demonstrations. These fast-paced sessions are just under 30 minutes long, and this is an opportunity to ask questions and pick up some new drills for individual practice periods.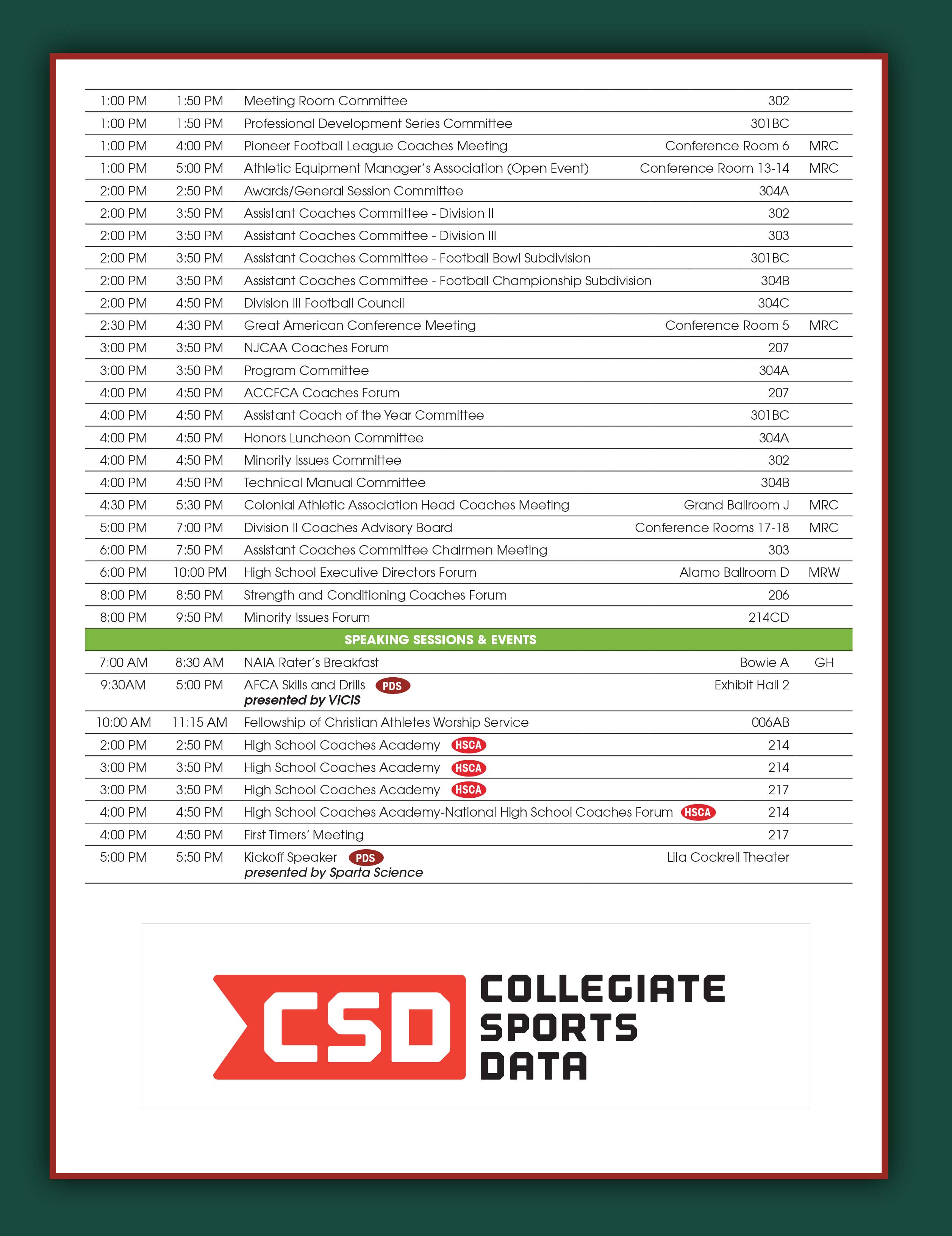 High School Coaches Academy: 2-5 PM (Check schedule for room assignments)
We have Grant Teaff (former AFCA Executive Director) speaking at 2 PM on the importance of high school football, followed by 3 PM sessions with Jeff Steinberg (Beaumont HS) covering program development and buy-in, and Mark Zimmer (Weatherford HS) discussing "Building Strength Through Explosion." The National High School Coaches Forum is at 4 PM and features Tom Herman (University of Texas), Don Pellum (UCLA), Bob Colgate (NFHS), Amanda Gilpin (UTSA), Chad Phillips (Starr's Mills HS), and Tim Brennan (Bishop Kelly HS).
First Timers' Meeting: 4-5 PM in Room 217
If it's your first time attending the AFCA Convention, make your way on over to the First Timers' Meeting with Fred Farrier. He will help get you set on the right path to ensure your first experience is a great one!
This year, Purdue head coach Jeff Brohm will be getting things started on Sunday evening. Don't miss out on this exciting session as we set the tone for an awesome Convention!
Buzz Sessions presented by Sports Attack: 6-7 PM (Check schedule for room assignments)
Craig Stutzmann (Hawaii), Bryan Nardo (Emporia State), Justin Stepp (Arkansas), John McMenamin (Central Missouri), Kyle Skierski (Millsaps College), Milo Austin (Morehead State), Matt Powledge (Louisiana), Marquase Lovings (Nicholls State), Chris Marve (Vanderbilt), Darren Garrigan (Incarnate Word), Chris Rubio (Rubio Long Snapping), Wil Gilmore (Pomona Pitzer), Josh Nelson (Baylor), plus a Chalk War with John Jacob (Wayne Hills HS) and Guy Bertola (Indian Hills HS).
Buzz Sessions presented by Sports Attack: 7-8 PM (Check schedule for room assignments)
Matt Drinkall (Kansas Wesleyan), Matt Guerrieri (Duke), Re'quan Boyette (Duke), Bill Fitzgerald (Seton Hall Prep), Adam Sanders (Apex Friendship HS), Mickey Turner (Wisconsin), Brad Spencer (North Central), Antoine Smith (Boston College), Erik DeHaven (St. Pius X HS), Ola Adams (Villanova), Chris Sailer (Chris Sailer Kicking), Travis Burkett (UNLV), Phil Tran (Calvert Hall College HS), and Mike McCabe (One-on-One Kicking).
Monday – January 7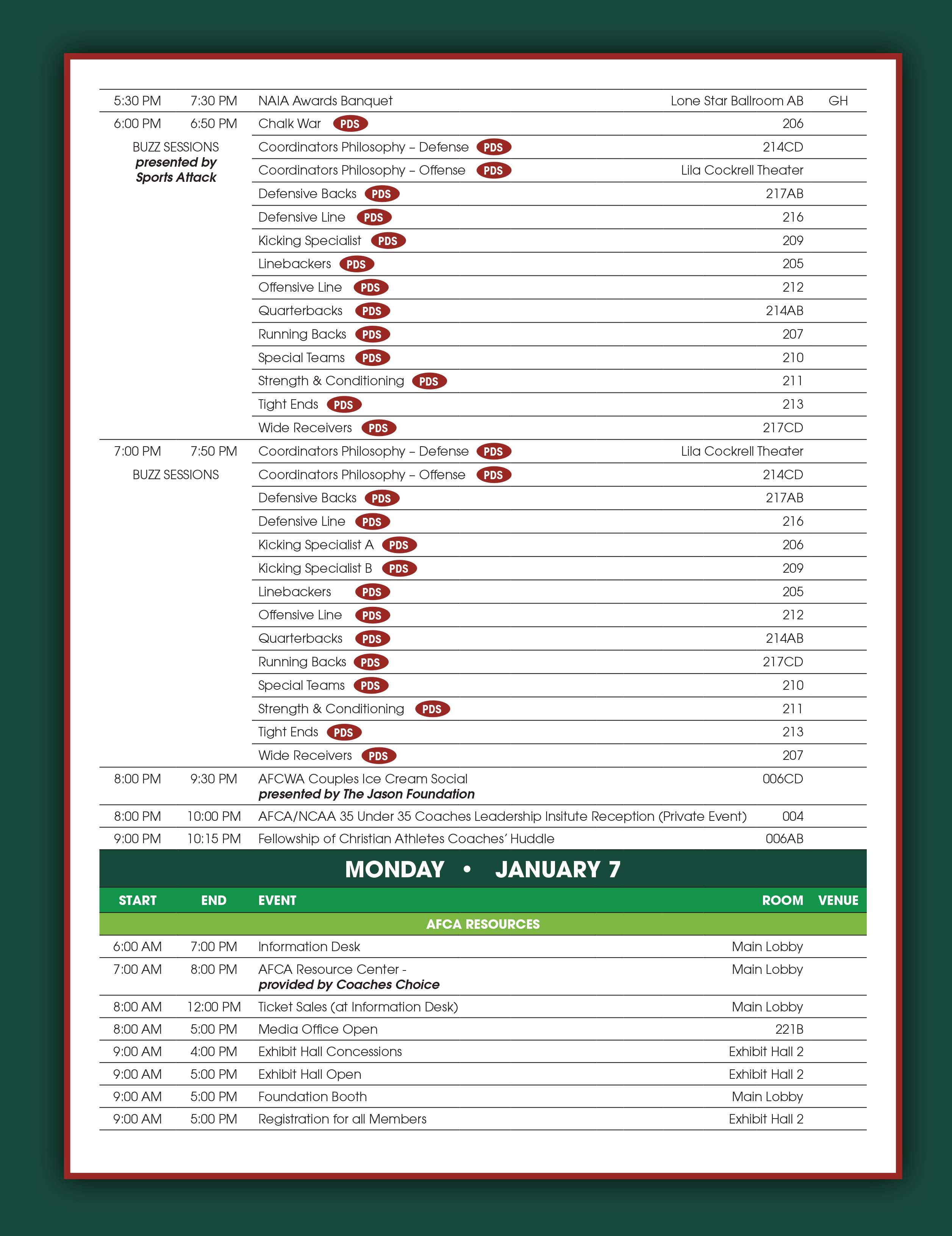 High School Coaches Academy: 8-11 AM in the Lila Cockrell Theatre
Great opportunity to hear from high school coaches including Phil Hayford (Keswick Christian School HS), Jason Bornn (Saugus HS), and Masaki Matsumoto (Lincoln HS).
Junior College General Session: 8-11 AM in Room 214
Jeff Fischer (Ventura Community College) will be talking offense, Cliff Collins (East Mississippi Community College) will discuss defense, and John Beam (Laney College) and Ryan Mahon (Blinn College) will go head-to-head in Chalk Wars.
International Session: 8-11 AM in Room 216 AB
Check out these sessions as Austin Jones (Pacific University), Val Gunn (Wroclaw Panthers), and Mike Caniglia (Upper Iowa University) share their knowledge and experiences from coaching football around the world! 
Skills & Drills presented by VICIS: 9 AM-4 PM in the Exhibit Hall
The live-demonstrations of the AFCA's Skills & Drills Field continues Monday, but this is your last chance to see it! This year we are also featuring six strength and conditioning sessions on Monday, so this is your opportunity to pick up some new drills and exercises to implement in your team's off-season program!
Every year, this is one of the most popular sessions at the Convention, so be sure to get there early! This year's lineup features P.J. Fleck (Minnesota), Mike Norvell (Memphis), Maurice Linguist (Texas A&M), and Kenny Dillingham (Auburn) in a discussion moderated by Fred Farrier (South Carolina State). Come hear what coaches are looking for when hiring assistants and learn from the experiences of those on the panel. Don't forget a pen and paper, because you're going to want to take notes! 
Honors Luncheon presented by Amway: 11:30 AM-1 PM
Join us as we take the opportunity to recognize and celebrate fellow coaches who have had a tremendous impact on the game of football! We will present the Outstanding Achievement, Academic Achievement, Trailblazer, and Assistant Coach of the Year Awards. Reminder: this is a ticketed event, and you can purchase tickets at the Information Desk up to 30 minutes prior to the event if you didn't grab one at Registration. 
General Session presented by TeamSnap: 1:30-5 PM in the Hemisfair Ballroom
Dino Babers (Syracuse) and Seth Littrell (North Texas) will get things started with interactive sessions where coaches in the audience submit the questions! We will also hear from Rick Jones (Greenwood HS), winner of the Power of Influence Award presented by TeamSnap, and the day will close with a presentation by Dana Holgorsen (Houston).
AFCA Tailgate Party presented by FieldTurf: 6:30 PM in the Stars At Night Ballroom 3
Who will hoist the Crystal Ball? Let's face it, you're going to watch the College Football Playoff National Championship—come to this FREE EVENT that features delicious food, cold drinks, massive screens, and fellow coaches! Doors will open at 6:30 PM on Monday, January 7.
Tuesday – January 8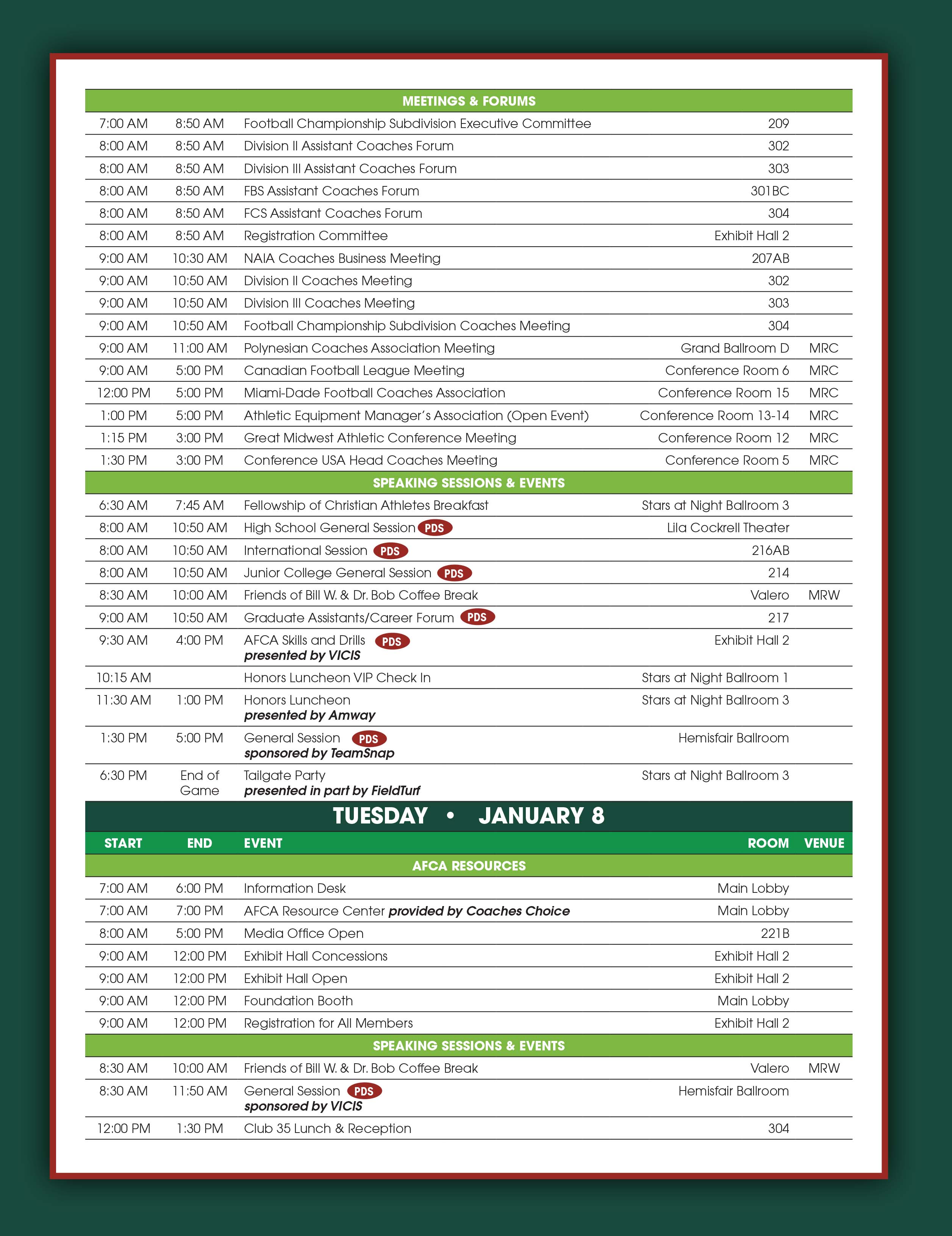 General Session presented by VICIS: 8:30 AM-Noon in the Hemisfair Ballroom
The General Sessions wrap up on Tuesday morning with another tremendous slate of collegiate head coaches, including  Willie Fritz (Tulane), Matt Wells (Texas Tech), Craig Bohl (Wyoming) and Dan Mullen (Florida). It's not X's and O's, but the talks focus on the culture and mindset that they ingrain in the people within their programs. Don't miss out on this opportunity!
NCAA Rules Seminar: Noon-2 PM in Room 217 
Breakout Sessions: 2-3 PM (Check schedule for room assignments)
There's much more to coaching than X's and O's, and we've got you covered with some tremendous breakout sessions on Tuesday afternoon! The "Young Coaches Forum" features Lamar Owens (Georgia Tech), Re'quan Boyette (Duke), Jason Lovvorn (First Baptist Academy), Todd Hartley (Miami), and Nate Brown (North Texas) discussing how they have established themselves as successful coaches at the beginning of their careers. Jake Zweig (Illinois) will pull back the curtain on identifying leaders in a team during his session titled, "Navy SEAL Secrets of Finding Leadership." We're bringing back the popular "Happy Wife, Happy Life" session, and we encourage you and your wife to join us as we discuss work-life balance and how to navigate the challenges that coaching can present for a family. This panel will feature Joshua & Kristen Eargle (Austin Peay), Braxton & Jennifer Harris (Howard Payne), Scott & Jessica McConnell (Hampton), and Jason & Kimberly Eck (South Dakota State). 
Breakout Sessions: 3-4 PM (Check schedule for room assignments)
Check out Derek Jones' (Duke) "Always Play 2 Win" session in which he breaks down his personal philosophy and mindset. Dr. Alvin Parker (Virginia Union) leads a panel of coaches with terminal degrees in "Books & Ball." Thabiti Davis (Dallas Cowboys), Scotty Walden (Southern Mississippi), Brennan Marion (William & Mary), and Carl Stralow (Keller HS) discuss how they incorporate faith and family into their everyday coaching lives during the "Faith, Family, Football" panel.
This new addition at the 2018 Convention was a huge success, and we're excited to have Les Miles (Kansas) take the stage in 2019! Coaches in the audience use their phones to submit questions and AFCA Executive Director Todd Berry will select the best ones to ask Coach Miles.
Wednesday – January 9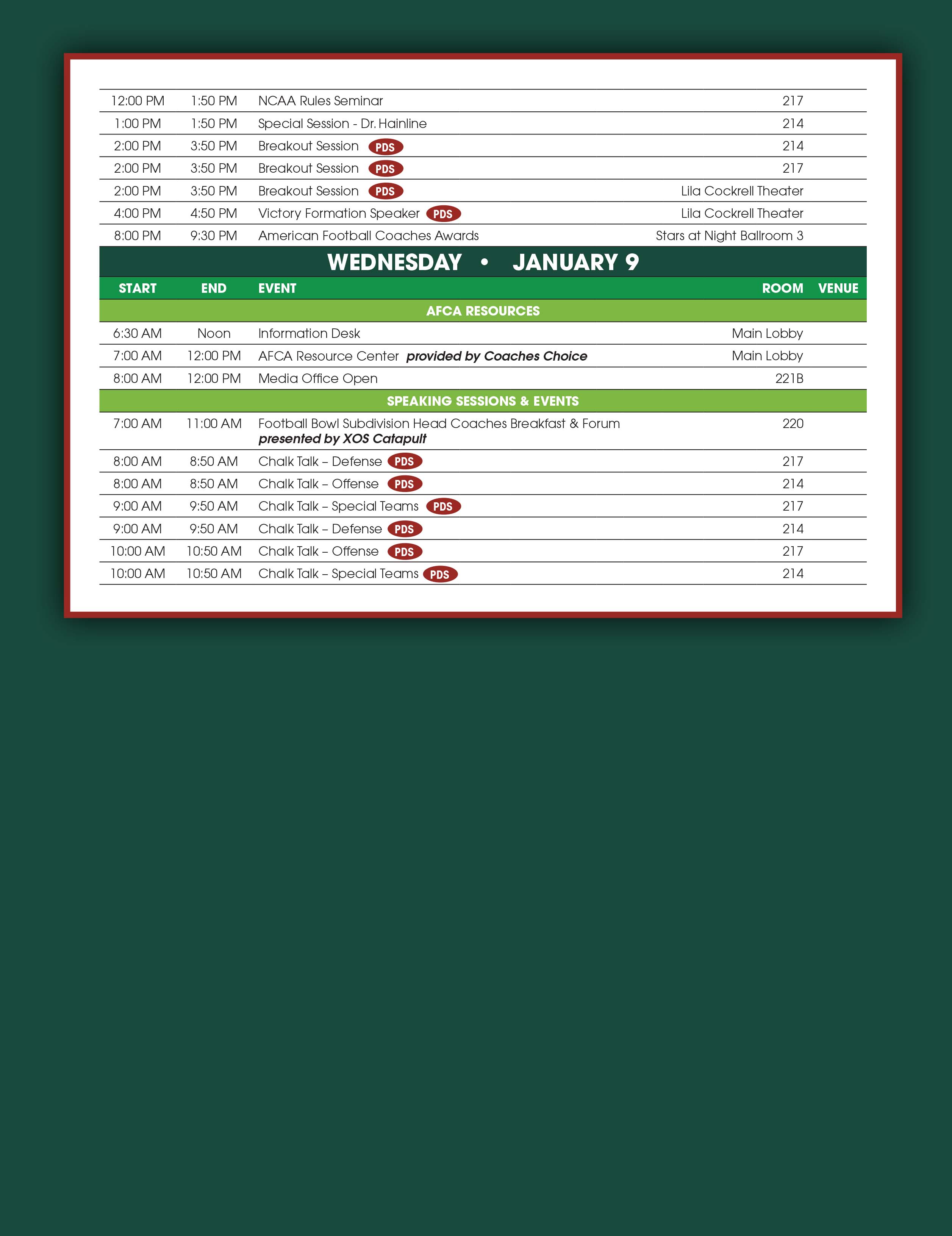 Chalk Talks: 8-11 AM (Check schedule for room assignments)
This is your last chance to talk ball at the 2019 AFCA Convention! You came to improve as a coach, so be sure to finish strong by attending some of these chalk talk sessions and listen as these coaches break down the X's and O's. We have two sessions per hour to choose from.
8 AM: Vincent Cashdollar (Manchester University) and Dan Mulrooney (Anna Maria)
9 AM: Carlos Woods (LA Pierce College) and Dr. Alvin Parker (Virginia Union)
10 AM: Milo Austin (Morehead State) and Coby Gipson (Howard Payne)
The countdown to the 2019 AFCA Convention is nearly over… See you in San Antonio!
Note: This information is subject to change. Please check the on-site program or download the AFCA mobile app for the most up-to-date information.
For more information about the AFCA, visit www.AFCA.com. For more interesting articles, check out AFCAInsider.com and subscribe to our weekly email.
If you are interested in more in-depth articles and videos, please become an AFCA member. You can find out more information about membership and specific member benefits on the AFCA Membership Overview page. If you are ready to join, please fill out the AFCA Membership Request Form.
« «
Previous Post
|
Next Post
» »